FIRST PITCH: Zack Wheeler's season has about 20 innings remaining, Mets personnel tell ESPNNewYork.com.
That total further declines when Wheeler (7-4, 3.38 ERA) opposes Washington Nationals right-hander Dan Haren (8-13, 5.23) at 7:10 tonight at Citi Field.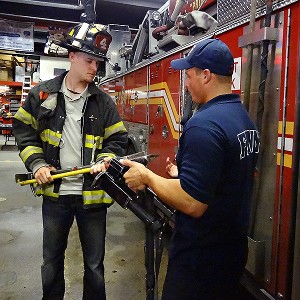 Adam Rubin
Zack Wheeler, who visited a Manhattan firehouse on Tuesday, has about 20 innings remaining in his season.
The rookie has logged 156 2/3 innings this season between the majors and minors. He tossed 149 innings in 2012. Teams generally are comfortable with 30-inning jumps over the previous season for young pitchers.
Wheeler's next outing would come against his former employer, the San Francisco Giants, likely next Tuesday. It looks like Wheeler would get one more start beyond that before skipping one turn at the very end of the season.
For the record: The Mets' tragic number for postseason elimination stands at two. A loss tonight would drop them a season-worst 16 games under .500.
Wednesday's news reports:
• Chief operating officer Jeff Wilpon confirmed he expects the Mets to be changing radio affiliates for next season. The team has partnered with WFAN since 1987. The Yankees reportedly will move to that spot on the dial. Read more in Newsday, the Times, Post, Daily News, Journal, Star-Ledger and Record.
• Dr. Robert Watkins performed surgery on Bobby Parnell on Tuesday in California to repair a herniated disk in the closer's back. Sandy Alderson said he expected Parnell to be unaffected during spring training. Lefty reliever Scott Rice also underwent surgery, in Philadelphia to repair bilateral sports hernias.
• Matt Harvey said he feels great and remains hopeful he will avoid Tommy John surgery, but conceded he will lean on doctors' advice, including James Andrews. Harvey is due to visit Andrews on Monday for a second opinion regarding the ace's partially torn ulnar collateral ligament in his pitching elbow. Harvey's comments came as he joined David Wright, Wheeler and Wilpon for a visit to a midtown firehouse. Read more in the Post, Daily News, Newsday, Star-Ledger, Record, Times and MLB.com.
• Justin Turner plans to get an MRI of his right hamstring this morning after an issue arose as he rounded third base last night.
• With his free-agency eligibility delayed until after the 2017 season, Ruben Tejada joined the Mets on Tuesday. In response to Alderson's recent criticism of his work ethic, Tejada said he is a hard worker. Read more in the Post, Daily News, Journal, Newsday, Star-Ledger and Record.
• Dillon Gee allowed solo homers to Jayson Werth and Adam LaRoche and Nats beat the Mets, 6-3, Tuesday. Read game recaps in the Post and MLB.com.
• The Mets released their 2014 schedule. They open at home on March 31 against the Nats. There are four separate West Coast trips. The Mets play in the Bronx on May 12 and 13, then at Citi Field against the Yankees the following two days. Interleague series include trips to the L.A. Angels (April 11-13), Seattle (July 21-23) and Oakland (Aug. 19-20). The A's (June 24-25), Rangers (July 4-6) and Astros (Sept. 26-28, to close the season) visit Citi Field. The last time the Mets visited Anaheim, back in June 2008, there was a 3 a.m. ET firing. Read more in the Star-Ledger.
• The Toronto Blue Jays confirmed they will face the Mets in exhibition games at Olympic Stadium in Montreal on March 28 and 29, 2014.
• In remembrance of the 9/11 terrorist attacks, the Mets will wear caps tonight representing different New York City first-responder organizations during batting practice -- but not in-game.
• Seth Lugo tossed six scoreless innings and Jeff Glenn went 3-for-4 with two doubles and three RBIs as Savannah beat Hagerstown, 6-2. The Gnats evened their best-of-five South Atlantic League championship series at a game apiece. Gabriel Ynoa gets Game 3 on Thursday in Savannah, with Long Island native Steven Matz set for Game 4. Read the full recap here.
• Read more on the Mets' firehouse visit in the Daily News.
• From the bloggers … John Delcos at Mets Report considers what still drives people to watch the Mets. … Faith and Fear tunes in to the Mets' impending departure from WFAN.
BIRTHDAYS: Frank Francisco turns 34.
TWEET OF THE DAY:
@AdamRubinESPN Mayeb you should just post a surgery schedule instead of a game schedule.

— Drew Kerr (@DrewKerr) September 10, 2013
YOU'RE UP: Is there a particular must-see Mets series in 2014?