NEW YORK -- Pedro Lopez reached Triple-A as a player, but had never been in a major league uniform before Wednesday.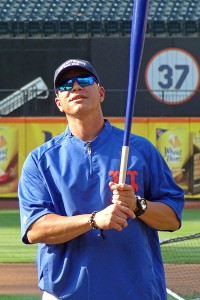 Adam Rubin
Binghamton manager Pedro Lopez received a September call-up to the Mets coaching staff.
Now, he has joined the Mets coaching staff for September, after managing the Double-A club to a Binghamton all-time-best 86-55 record during the regular season. The B-Mets were swept out of the first round of the Eastern League playoffs by Trenton, the Yankees' Double-A affiliate.
Lopez will be the lone coaching call-up. A team spokesman said Wally Backman would not be joining the Mets. The Triple-A manager, including Backman last season, customarily has joined the major league staff during the final month.
"I've been telling everybody: I think the most important thing was just seeing guys grow as the season went on," Lopez said about Binghamton's season. "It's too bad at the end it went down the way it did. But you know what? There's no shame. The guys did a good job, and we just got beat by a better team."
Right-hander Noah Syndergaard went 6-1 with a 3.00 ERA in 11 regular-season starts for the B-Mets during the second half -- a number that was skewed because Syndergaard, 21, allowed nine earned runs in three innings in his final start.
"The fastball command -- that's the one thing that was impressive about him," Lopez said. "He was able to command the fastball. He was able to keep his pitch count down in order for him to pitch deep into the games. His secondary pitches were great, too. I think he's a kid that's going to be fun to watch in the next couple of years."