NEW YORK -- The suspense is over. The Mets have been mathematically eliminated from postseason contention.
And the depleted lineup again barely mustered a peep while making it official.
Victims of a one-hit shutout by Gio Gonzalez in Monday's series opener, the Mets were blanked this time by Dan Haren and four relievers on three hits as the Washington Nationals beat the Mets 3-0 Wednesday.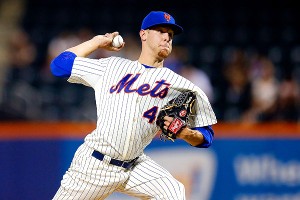 Jim McIsaac/Getty Images
Zack Wheeler suffered the loss despite surrendering only one run in seven innings.
The Mets (64-80) dropped a season-worst 16 games under .500.
Washington will bid for its second four-game sweep at Citi Field in three seasons in Thursday's matinee series finale.
The latest victim of a lack of support: Zack Wheeler, who surrendered only one run -- on a solo homer by Ryan Zimmerman -- in a 101-pitch effort spanning seven innings.
Wheeler had gone 36 innings without surrendering a long ball when Zimmerman led off the sixth with a solo shot that broke a scoreless tie. Wheeler had not allowed a homer in six games since the Diamondbacks' Aaron Hill took him deep on Aug. 10 in Phoenix.
Wheeler twice stranded two runners in scoring position -- in the first inning by striking out Bryce Harper and Ian Desmond consecutively and to end his outing in the seventh by coaxing a groundout from Jayson Werth.
Wheeler's line: 7 IP, 8 H, 1 R, 1 ER, 1 BB, 6 K's, 1 HR.
He has now logged 163⅔ innings this season, 14⅔ innings more than he did a season ago. Wheeler likely has two starts left.
Vic Black surrendered a two-run double to Anthony Rendon in the eighth.
As for the Mets' offense, that came on a leadoff single in the fourth by Juan Lagares against Haren, a two-out single in the seventh by Josh Satin against Drew Storen, then Lagares' one-out bunt single in the ninth against closer Rafael Soriano.
Welcome back: In his first major league appearance since May 29, Ruben Tejada started at shortstop and went 0-for-3.
What's next: Aaron Harang makes his team debut as the Mets look to avoid getting swept. Harang went 5-11 with a 5.76 ERA in 22 starts with the Seattle Mariners this season. He opposes right-hander Tanner Roark (5-0, 0.94 ERA) in the rookie's second major league start. He moved from the bullpen to displace Ross Ohlendorf.