FIRST PITCH: Young players on the Mets can begin to earn spots on the 2014 roster with their September performances. They also can begin to disqualify themselves from consideration, Terry Collins noted.
And let's just say Collins largely has not been thrilled with the players' approaches at the plate after the Mets were shut out for the second time in three days Wednesday.
"We can sit here every night and discuss the same stuff over and over," Collins said. "You've got to make adjustments. You can't keep thinking you're going to get balls to pull, or try to go up there and pull every pitch. You've got to step out of the batter's box, or sit in the dugout and pay attention, and realize what the opposing pitcher is doing to get you out, and try to come up with a plan to make an adjustment at the plate and put the bat on the ball.
"I know they're young. That's all part of it. But, as we've said before, in the growing stages in this part of the year, we want to see some guys get better. And part of that getting better is being able to gather yourself on the side, and get in the batter's box, and put a good at-bat on."
The Mets try to get on track and avoid getting swept in the four-game series against the Washington Nationals when Aaron Harang makes his Mets debut opposite right-hander Tanner Roark at 1:10 p.m.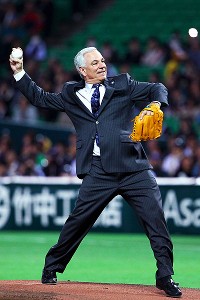 Koji Watanabe/Getty Images
The Yankees took exception to Bobby Valentine's criticism.
Thursday's news reports:
• Yankees president Randy Levine called it "very sad" that Bobby Valentine on Tuesday suggested the Yankees were AWOL when the city needed them after the 9/11 terrorist attacks, writes Andrew Marchand for ESPNNewYork.com. "Bobby Valentine should know better than to be pointing fingers on a day like today," Levine told Marchand. Read more in the Post, Daily News, Newsday and Star-Ledger.
• Collins will return to manage the Mets next season, Mike Puma reports in the Post. That is consistent with what ESPNNewYork.com reported Sept. 1. The organization would only shift course if something monumental occurred, such as a managerial behavior meltdown. As for the Mets' 2-8 record in September, which is better than only the Chicago White Sox, a team official told Puma: Collins "can't totally be graded on something he doesn't have right now."
As for Triple-A manager Wally Backman's future, Puma writes:
According to sources, Backman considered tendering his resignation near the end of spring training because he was unhappy receiving orders from team officials about playing time for certain individuals. Backman then angered [Sandy] Alderson later in the season, with comments about how he would fix Ike Davis, after the first baseman was demoted to Las Vegas.
But Backman knows how to manage, something that was reaffirmed this season when he took Las Vegas to the Pacific Coast League playoffs despite having his roster decimated to fill holes with the Mets.
Look for Backman to land in another organization next season, unless the Mets are willing to give him a shot on the major league coaching staff. But such an addition could create an uncomfortable situation because of the mostly false perception that Backman would be the manager in waiting.
Puma also wrote:
Alderson, through channels, has made it known there is almost no chance he would hire popular Wally Backman to manage the Mets if there was an opening.
Backman has thrived managing at the Triple-A level, but there are fears within the organization he would clash with this front office, which -- make no mistake about it -- has the final word on everything related to the on-field product.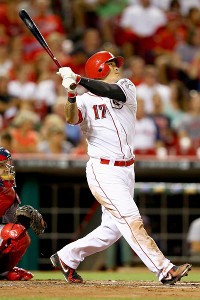 Andy Lyons/Getty Images
Shin-Soo Choo may be a top Mets target.
• Jon Heyman at CBSSports.com writes that free-agent-to-be outfielder Shin-Soo Choo "fits the bill" for what the Mets need this winter. On the Mets' offseason spending, Alderson tells Heyman: "There's no question long-term contracts carry risk, and right about the time you're clearing payroll you can wind up right back where you started if it doesn't work out. On the other hand, you have some times where you have to roll the dice. I certainly haven't ruled out a big-ticket item." Heyman suggests the Mets like the Boston Red Sox's model of several middle-range free-agent additions.
Writes Heyman:
The Mets expect to have their first-base answer in-house, between Ike Davis, Lucas Duda and Josh Satin, and will pencil in Travis d'Arnaud at catcher, Daniel Murphy at second base and [Juan] Lagares in center -- though they hope to see more offensive consistency from d'Arnaud and more plate discipline from Murphy. With David Wright back at third base, that will leave shortstop and the outfield corners as the main areas for import.
Ruben Tejada had a lost year and is out of favor and Omar Quintanilla looks like a utilityman, so shortstop will very likely be an emphasis, though the free-agent market at that premium position is less than promising. The emergence of Lagares, the addition of speedy veteran Eric Young Jr. and especially the enormous surprise season of Marlon Byrd meant a potential disaster area in the outfield was somewhat better than expected, but Byrd was traded to the Pirates and Young is seen as an excellent fourth or fifth outfielder they'd like to bring back as a backup. So outfield will once again be the biggest area to look at.
While Choo appears like the best fit, there will surely be a bidding war for a player who is second the National League with a .425 on-base percentage. Choo was below average in center field this year, but will presumably be coveted as a corner man by many teams.
• Zack Wheeler surrendered one run in seven innings, but the Mets were mathematically eliminated from postseason contention with a 3-0 loss to the Nationals on Wednesday night. The Mets mustered only three hits against Dan Haren and four relievers. Tejada went 0-for-3 in his first major league appearance since May 29.
Read game recaps in the Post, Daily News, Newsday, Times, Star-Ledger, Record and MLB.com.
• Wheeler has tossed 163 2/3 innings. The organization is likely to let him make two more starts and approach 180 innings. Read more on a rookie pitcher trying to pitch deep into September in the Journal.
• The Yankees' move to WFAN -- both AM and FM signals -- was made official Wednesday, bouncing the Mets elsewhere on the dial. Read more in Newsday, the Post and Journal.
• Wright ran the bases Wednesday for the first time since suffering a strained right hamstring. Collins estimates Wright may be back in a game by the middle of next week. Read more in the Star-Ledger and Journal.
• An MRI taken on Wednesday revealed Justin Turner suffered a small right hamstring strain a day earlier. Turner should miss a couple of games, Collins suggested.
• Binghamton manager Pedro Lopez has joined the major league coaching staff. Backman will not be added.
• D'Arnaud discusses his struggles in the Daily News. Scouts on Wednesday told ESPNNewYork.com that d'Arnaud is going to have to make his swing more compact. Right now, he is helpless against breaking balls. And it seems like he is not catching up to the fastballs he is sitting on. He is hitting .152 (10-for-66) with a homer and three RBIs since his promotion.
• Jorge Castillo in the Star-Ledger looks at Matt den Dekker's season and future.
• From the bloggers … Faith and Fear in Flushing marks the passage of another lost season. … John Delcos at Mets Report suggests Valentine is misguided judging the Yankees' post-9/11 contribution.
BIRTHDAYS: Luis Castillo, known during his Mets days for that drop at Yankee Stadium, turns 38.
TWEET OF THE DAY:
@AdamRubinESPN Why do fans insist on seeing "the kids" play, then complain with the anemic results, like the last 2 series?

— Anthony Messana (@AntJCM47) September 12, 2013
YOU'RE UP: Was Bobby Valentine in the wrong disparaging the Yankees' contribution after 9/11?