NEW YORK -- Heads up on the Party City Deck!
The Washington Nationals unloaded three homers against Aaron Harang and completed their second four-game sweep at Citi Field in three seasons with a 7-2 victory Thursday afternoon.
The Mets (64-81) dropped a season-worst 17 games under .500. They also fell to 2-9 in September, matching the Chicago White Sox for the majors' worst record this month.
The Mets are one loss from clinching their fifth straight losing season.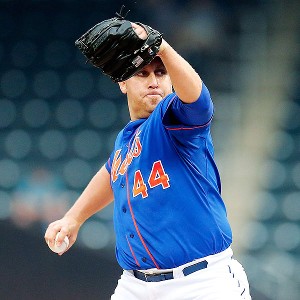 Jim McIsaac/Getty Images
Aaron Harang matched a franchise record by allowing three homers in his Mets debut.
That likely will match the Houston Astros for the longest active streak of consecutive losing seasons in MLB. The Pittsburgh Pirates (20 straight losing seasons entering 2013) already have snapped their streak this year, while the Kansas City Royals (nine straight) are 77-69 and on their verge of snapping their sub-.500 run.
Harang, who produced a 5.76 ERA in 22 starts with the Seattle Mariners this season, matched the record for most homers surrendered in a Mets debut. In allowing three long balls, Harang joined Steve Trachsel (2001), Brian Rose (2001) and Mike Birkbeck (1992).
The Nats outhomered the Mets 13-0 in the series.
That fell one homer shy of the franchise record for most homers against the Mets in a series in which the Amazin's failed to go deep, according to Bob Waterman of the Elias Sports Bureau. Detroit outhomered the Mets 14-0 in a three-game series at Tiger Stadium in 1997.
Thirteen homers comfortably set the record for most homers by a visitor in a series at Citi Field. The previous record had been seven homers, by the New York Yankees (2012, in three games), Colorado Rockies (2011, four games), Philadelphia Phillies (2009, three games) and Arizona Diamondbacks (2009, four games), according to ESPN Stats & Information.
The Citi Field dimensions were reconfigured before the 2012 season.
Washington won the season series 12-7.
Harang's final line: 6 IP, 4 H, 3 R, 3 ER, 1 BB, 10 K, 3 HR.
Harang surrendered a first-inning solo homer to Ryan Zimmerman. Daniel Murphy answered in the bottom half with an RBI double to even the score 1-1.
Zimmerman has eight homers in his past 10 games.
After a 56-minute rain delay, Adam LaRoche went deep to left field on a replay-awarded homer in the second.
Anthony Recker's fourth-inning RBI single made it 2-2, but Harang ultimately departed in line to lose. He surrendered his third homer, a solo shot to Wilson Ramos, in the fifth as Washington took a 3-2 lead.
With the Mets trailing 4-2, Nats reliever Craig Stammen struck out Juan Lagares to end the seventh inning and strand two in scoring position. Mets reliever Frank Francisco then surrendered two runs the following half-inning.
What's next: The Mets welcome the Miami Marlins to Citi Field for a four-game weekend series. Jonathon Niese (6-7, 3.86 ERA) handles Friday's 7:10 p.m. ET opener. The southpaw faces left-hander Brad Hand, a September call-up who has made three scoreless relief appearances this season.