FIRST PITCH: Matt Harvey has returned from seeing Dr. James Andrews in Pensacola, Fla., with the Mets promising more news today. So stay tuned.
If Harvey does proceed with Tommy John surgery, he is likely to miss most if not all of the 2014 season.
Meanwhile, Terry Collins has said David Wright, team medical staff and front-office personnel will confer today to determine if Wright is ready to reenter the lineup. Wright last played in a major league game on Aug. 2, when he suffered a Grade 2 right hamstring strain running to first base in extra innings.
The San Francisco Giants arrive at Citi Field with a 69-81 record, narrowly ahead of the last-place Colorado Rockies in the NL West.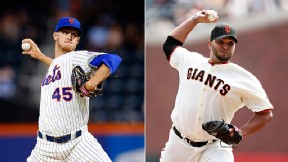 Getty Images
Zack Wheeler opposes former Mets farmhand Yusmeiro Petit in tonight's series opener.
Right fielder Hunter Pence, a pending free agent, is coming off a four-game series against the Los Angeles Dodgers in which he produced five homers and 12 RBIs in 17 at-bats.
Former Mets farmhand Yusmeiro Petit and Zack Wheeler match up in tonight's series opener.
Petit was traded with Mike Jacobs to the Marlins during Thanksgiving week in 2005, in the deal that brought Carlos Delgado to New York. Petit and Wheeler actually matched up once before this season -- in the Pacific Coast League, when Fresno beat Las Vegas, 4-1, on April 9.
Aaron Harang opposes Matt Cain on Wednesday at 7:10 p.m. Jonathon Niese faces Madison Bumgarner on Thursday at 1:10 p.m.
Tuesday's news reports:
• Comedian Jerry Seinfeld will join the SNY crew to call tonight's game. Seinfeld, a Mets fan who has a luxury box at Citi Field, also appeared on a June 23, 2010 game telecast.
Writes Neil Best in Newsday:
[Keith] Hernandez, who starred in a memorable, two-part 1992 episode of "Seinfeld'' called "The Boyfriend," said he has not spoken to Seinfeld since their 4½ innings together in 2010 but that he "can't wait'' for the return engagement.
"I think it's something we should do every August or September, if we're in it or out of it,'' he told Newsday. "It's good stuff. He's up on baseball, up on the Mets and he's funny. He's Jerry Seinfeld . . . But he's no different from any other Met fan. He suffers the same things they suffer and feels the same things they do. I'm looking forward to it.''
Hernandez said Seinfeld would be a welcome change of pace for a telecast that covers a team far out of contention.
• In light of Harvey's injury, Barry Berak in the Times talks to Dr. Glenn Flesig, who says pitchers cannot throw any harder than they currently do in MLB. Fleisig runs the lab where Rick Peterson used to send Mets pitchers for biomechanical analysis. "Oh, there may be an outlier, one exception here or there," Fleisig said. "But for major league baseball pitchers as a group of elites, the top isn't going to go up anymore. With better conditioning and nutrition and mechanics, more pitchers will be toward that top, throwing at 95 or 100. But the top has topped out." Read more on Harvey in the Post, Daily News, Star-Ledger and Newsday.
• Marc Carig in Newsday speaks with the Wheelers, including Zack's brother Adam, who had a serious heart surgery.
• Mike Vorkunov in the Star-Ledger speaks with Lucas Duda about returning to first base. "It was a lot of pressure," Duda said about left field. "If I didn't play well in the outfield then I kind of put more pressure on myself to hit."
• Mike Kerwick in the Record speaks with Collins about his job performance. Team insiders have told ESPNNewYork.com that Collins is due to return next season, barring something unexpected -- like a clubhouse incident -- occurring during the remainder of the season.
• The Mets have nominated Wright for the Roberto Clemente Award, which goes to the major league player "who best represents the game of baseball through positive contributions on and off the field, including sportsmanship and community involvement." The last Met to win the award was Delgado in 2006.
• Rob Castellano of Amazin' Avenue took a look at Travis d'Arnaud's pitch-framing skills and found examples of d'Arnaud stealing strikes for Mets pitchers.
Mark Simon of ESPN Stats & Info dug in to ESPN's data and made a similar finding -- that d'Arnaud has (so far) excelled at making sure that pitches in the lower-third of the strike zone are being called strikes.
Simon produced this visual below to provide a further explanation: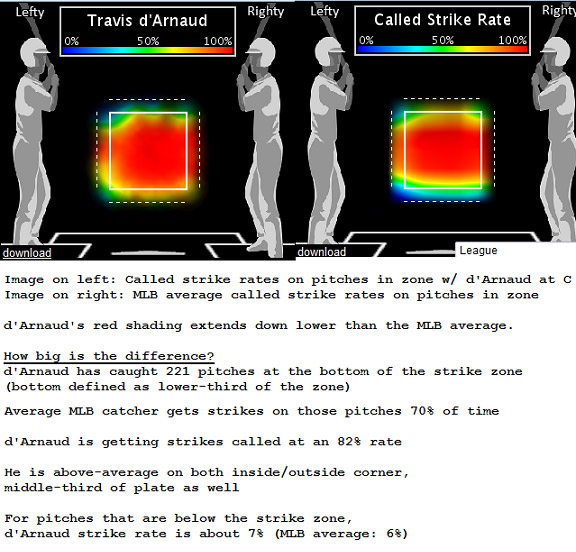 • From the bloggers … Mark Berman from Blogging Mets says it looks like Sandy Alderson finally got it right and will not have to rebuild the bullpen again this offseason.
BIRTHDAYS: John Franco turns 53.
TWEET OF THE DAY:
Mets Ambassador Edgardo Alfonzo has agreed to play 2B for the Mets Front Office vs. the Media tomorrow at Citi. A 2000 NL All Star.

— Jay Horwitz (@Jay_HorwitzPR) September 16, 2013
YOU'RE UP: Are you looking forward to Jerry Seinfeld calling the Mets game on SNY?