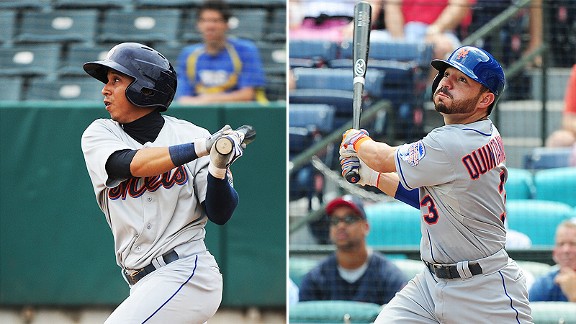 Associated Press, Getty Images
Wilfredo Tovar and Omar Quintanilla should share shortstop duty the remainder of the season.NEW YORK -- Terry Collins expects a shortstop platoon the remainder of the season between the lefty-hitting Omar Quintanilla and the righty-hitting Wilfredo Tovar, who is due to join the Mets on Friday in Philly.
Because Tovar is traveling to join the Mets and presumably has not played in nearly two weeks, Collins does not expect to start Tovar on Friday night against southpaw Cole Hamels. So Tovar's first major league start should come Sunday, against left-hander Cliff Lee, according to the manager.
"I'll let him go out there and get some playing time," Collins said. "That's what he's coming up for."