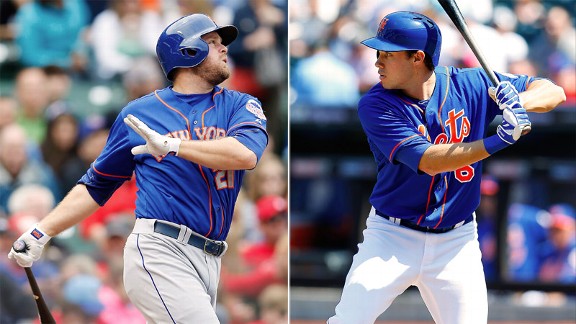 Getty Images
Lucas Duda and, possibly, Matt den Dekker will play winter ball to make up for lost at-bats.PHILADELPHIA -- Lucas Duda told ESPNNewYork.com that he may play winter ball in Venezuela to make up for lost at-bats from an injury-plagued season. Playing winter ball also would get Duda more time to get acclimated to first base, his natural position.
Duda has only 355 at-bats this season between the majors and minors. He landed on the disabled list on June 23 with an intercostal strain on his left side. When he was ready to return Aug. 7, the Mets took him off a rehab assignment and optioned him to Triple-A Las Vegas.
Matt den Dekker also may be winter ball-bound, although that is not definite. Den Dekker suffered a broken right wrist late in spring training and has been limited to 285 at-bats between the majors and minors.
Terry Collins prefers both land with winter-ball clubs.