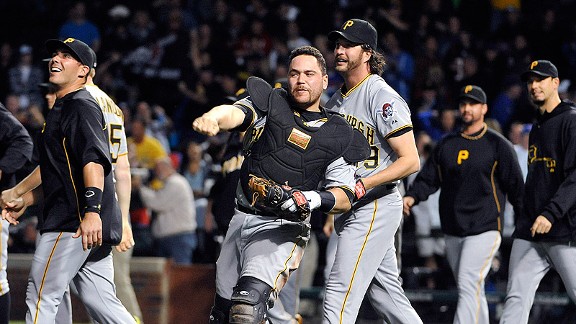 David Banks/USA TODAY Sports
On Monday night, the Pirates clinched their first playoff berth since 1992.NEW YORK
FIRST PITCH: The National League playoff field is set, with the Mets playing a role Monday night in the definitive composition.
The only question now: What is the order of finish in the NL Central?
The Washington Nationals were eliminated from playoff contention with their loss at St. Louis, officially clinching playoff spots for the Cincinnati Reds and Pittsburgh Pirates. Pittsburgh reaches the playoffs for the first time since 1992, when Terry Collins served as bullpen coach.
St. Louis (92-65) leads the NL Central by two games over Cincinnati (90-67) and Pittsburgh (90-67) with five games remaining. Two of those teams will play in the winner-take-all wild-card game, with the winner facing the NL division winner with the best record.
That remains undetermined as well. The Atlanta Braves (92-64) right now are a half-game ahead of St. Louis for the league's top record. The NL West-champion Los Angeles Dodgers (90-66) trail Atlanta by two games.
If the season ended right now, Atlanta would host the Pittsburgh-Cincinnati winner. And St. Louis and L.A. would meet in the other NL Division Series.
The Mets continue to try to play spoiler today at Great American Ball Park. Jonathon Niese (7-8, 3.81 ERA) opposes right-hander Mike Leake (14-6, 3.21) at 7:10 p.m.
The Mets are winless in four games against Cincinnati this season. The Reds have never swept a season series from the Mets.
Tuesday's news reports:
• Free-agent-to-be Shin-Soo Choo produced a walk-off RBI single off the outfield wall against Sean Henn in the 10th as Cincinnati beat the Mets, 3-2, Monday night. Lucas Duda snapped an 0-for-17 skid with a solo homer and drove in both runs for the Mets.
The Mets have now played 56 extra innings this season. That is four shy of matching the franchise record, set in 1979 and duplicated in 1985. Across baseball, there have now been 237 extra innings this season, matching 2011 for the most in major league history, according to ESPN Stats & Information.
Read game recaps in the Post, Daily News and MLB.com.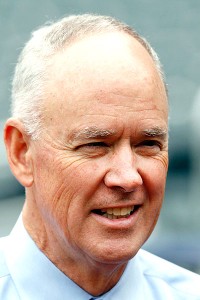 William Perlman/US Presswire
Sandy Alderson
• Sandy Alderson, speaking in Cincinnati, offered insights on four major topics. The GM said:
-- He would like to see Matt Harvey face batters in a "near-competitive level" of play on multiple occasions this fall in order to disprove the need for Tommy John surgery. Alderson mentioned the Arizona Fall League as a possibility, if that is allowable.
"The strong desire is that we will finish this process within the six- to eight-week time frame," Alderson told reporters. "… We're in the six- to eight-week window, but when he actually starts throwing is a little bit unclear."
-- No decision will be announced on Collins' fate for 2014 and beyond until after the season. ESPNNewYork.com already has reported it is highly likely Collins will be invited back.
"I think I've been pretty open about my support of Terry," Alderson told reporters. "I think he's done an excellent job across the board with the talent that he's had, with the injuries that he's had to endure, with the other changes in personnel. I think he's handled all of those situations and individual events exceptionally well. On the other hand, we haven't won, and that's always an issue. But it's not always a result that can be pinned on the manager.
"Wins and losses, I don't think, ever determine a manager's fate, frankly. Even winning does not necessarily guarantee tenure. It's always a little bit subjective, in this case perhaps more so. You have to temper your evaluation with the circumstances and the context, which includes the players, the injuries, the trades, the other things that come into play on a daily basis. In anything like this, you have to constantly remind yourself of the need to be objective."
-- Wally Backman likely will be invited to manage Triple-A Las Vegas again next season. If a position became available on the major league staff, Alderson indicated Backman would receive consideration.
-- Zack Wheeler did get examined by a team doctor on call at Citi Field after complaining of shoulder stiffness in what turned out to be his final 2013 start. It was determined that no MRI would be needed. "I think if this was any other point in the season, we might back him off or skip a start," Alderson said, minimizing the issue.
Read more from Alderson in the Daily News, Newsday, Times, Star-Ledger, Record and MLB.com.
From the bloggers … John Delcos at Mets Report believes the Mets should just announce now that Collins is returning if that is the case.
BIRTHDAYS: Hubie Brooks turns 57. … Bernard Gilkey is 47.
TWEET OF THE DAY:
Back in NY! Found an ex Hockey Player!! pic.twitter.com/El4laftbZD

— Mike Piazza (@mikepiazza31) September 23, 2013
YOU'RE UP: Who is more responsible for the Mets' fifth straight losing season -- Sandy Alderson or Terry Collins?