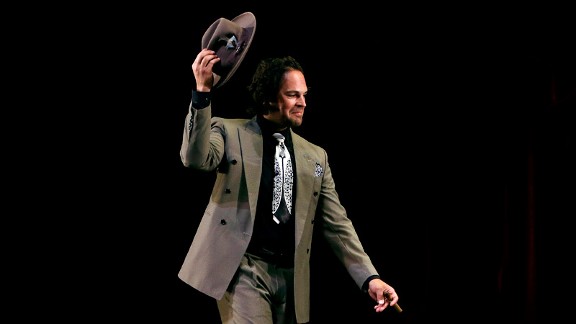 Lynne Sladky/Associated Press
Mike Piazza will be inducted into the Mets Hall of Fame on Sunday.NEW YORK
FIRST PITCH: Last call.
After winning five of six games on a trip to Philadelphia and Cincinnati, the Mets return home for their final series of the season -- a four-game set with the Milwaukee Brewers.
The weekend highlight comes Sunday, when Mike Piazza becomes the 27th inductee into the Mets Hall of Fame. The pregame ceremony begins approximately 12:55 p.m.
Piazza will join:
1981: Joan Payson and Casey Stengel
1982: Gil Hodges and George Weiss
1983: Bill Shea and Johnny Murphy
1984: Lindsey Nelson, Bob Murphy and Ralph Kiner
1986: Bud Harrelson and Rusty Staub
1988: Tom Seaver
1989: Jerry Koosman
1990: Ed Kranepool
1991: Cleon Jones
1992: Jerry Grote
1993: Tug McGraw
1996: Mookie Wilson
1997: Keith Hernandez
2001: Gary Carter
2002: Tommie Agee
2010: Frank Cashen, Davey Johnson, Dwight Gooden, Darryl Strawberry
2012: John Franco
Dillon Gee (12-10, 3.54 ERA) makes his final 2013 start in Thursday's 7:10 p.m. series opener. He opposes right-hander Johnny Hellweg (1-4, 7.43).
Carlos Torres faces Yovani Gallardo on Friday, followed by Aaron Harang versus September call-up Jimmy Nelson on Saturday.
Terry Collins has yet to name Jonathon Niese or Daisuke Matsuzaka his Sunday starter, although logic points to Niese after Dice-K threw 105 pitches Wednesday. Marco Estrada starts for the Brewers.
For those monitoring the Mets' June 2014 draft-pick status, the winning spurt has not helped.
The Mets (73-85) currently would have the 12th pick, outside of the protected top 10.
Would having an unprotected pick dissuade the Mets from pursuing a top-tier free agent? Or, more cynically, give them the built-in excuse not to spend on the elite group? That remains to be seen.
I don't view the draft-pick situation as relevant to what we're doing here," Sandy Alderson recently told Mike Puma in the Post. "We're trying to win every game we play. We're trying to build the credibility of the franchise, and that goes beyond where we're picking in the draft."
Thursday's news reports:
• Matsuzaka, making a bid to be part of the 2014 Mets, tossed a four-hit shutout over 7 2/3 innings in a 1-0 win against the Reds at Great American Ball Park on Wednesday. After posting a 10.95 ERA in his first three starts, Matsuzaka has a 1.37 ERA in his past four starts.
Even if Matt Harvey is OK for 2014 -- clearly no given -- the Mets should need a veteran starter in camp to compete with Jacob deGrom and Rafael Montero for the fifth slot and to serve as a hedge against an injury
"My intentions are to stay here in the U.S. I want to continue pitching over here in the major leagues," Matsuzaka told reporters through his interpreter. "And, if my previous few starts have impressed anyone, then we'll just have to see."
CITI DWELLING
A look at the Mets' home and road record over the past six seasons -- the final year at Shea Stadium, then five years at Citi Field.
Meanwhile, Justin Turner, in his first action since straining his right hamstring on Sept. 10, started at third base in the place of resting David Wright and went 1-for-4. Wednesday's win meant the Mets finished with a 41-40 road record.
Read game recaps in the Post, Daily News, Times, Star-Ledger, Record, Newsday and MLB.com.
• Juan Centeno became the first major league catcher to throw out Billy Hamilton on an attempted steal, after 13 straight successful attempts to begin the speedster's career. Centeno threw out 56 percent of would-be base stealers (34 of 61) between Double-A Binghamton and Triple-A Las Vegas this season. Read more in the Star-Ledger.
• Mike Kerwick in the Record chats with Lucas Duda about the first baseman's future with the organization. Obviously, something has to give between Ike Davis and Duda.
"If it's Ike, obviously we know what kind of guy he is," Duda told Kerwick. "A 30- to 40-home-run kind of guy. Plays great defense.
"Whatever happens, happens. You can't really get mad or whatever it is. That's the game. That's the business. I understand it. If I happen to get traded or whatever happens, I'll thank the Mets for giving me an opportunity and hope whatever situation I'm in I play as well as I can."
• Jorge Castillo in the Star-Ledger profiles Vic Black, who should be the primary closing candidate next season if Bobby Parnell has a rough recovery from surgery to repair a herniated disk. Collins indicated Parnell has lost 30 pounds since the neck ordeal began, although doctors feel he will be ready for spring training.
"Some guys have late life on the ball. Sometimes I play catch with him and he has, like, double life," LaTroy Hawkins told Castillo about Black. "The ball comes out of his hand and it picks up speed halfway and hits up another gear. It's weird. It's something I've never seen. That's why I said he has a magical arm. I told him he has a magical arm."
Read more about Parnell's status in the Daily News.
• Jared Diamond in the Journal suggests the talent gap between the Mets and Yankees has considerably closed. Diamond gives the edge to the Mets at catcher, third base, center field and with the starting pitching.
• From the bloggers … Faith and Fear relished the final midweek afternoon game of the year. … John Delcos at Mets Report does not want Matsuzaka starting the season finale.
BIRTHDAYS: Reliever Doug Sisk turns 56.
TWEET OF THE DAY:
Final: Rays 8, #Yankees 3

— New York Yankees (@Yankees) September 26, 2013
YOU'RE UP: Should Daisuke Matsuzaka be a part of the 2014 Mets?