NEW YORK -- David Wright expressed confidence the Mets would improve their ballclub this offseason through free agency and trades. The captain also reiterated he believes the plan that was shared with him before he signed an eight-year contract last offseason still is being implemented as promised.
"I'm all in for this organization," Wright said Thursday afternoon, before the Mets opened their final series of the season. "I believe they're the same. They'll be all in. Everybody has said with the money coming off the books, with the job that our minor-league development has done, we have some valuable pieces and some money to spend."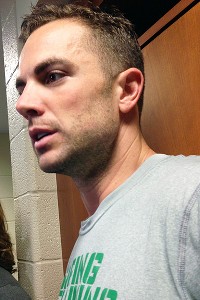 Adam Rubin
David Wright
The Mets have at least $70 million coming off the books. So it is expected the payroll will go down even with aggressive spending.
"I'm obviously expecting this team to be a lot better next year than we have been in previous years," Wright said. "And that's just not with free agents or trades. It's also the burden falls on us to be better as well. You can't go out here and expect to sign every free agent, expect to make every big trade. Some of these holes need to be filled from within. That's up to us to go out there and get better. ... At least in my personal opinion, the reason for sustained success is building from within. I think we've done a nice job of doing that as far as pitching-wise."
As for his 2013 evaluation, Wright added: "This year, I think, there's some good things you can take away from it and there's quite a few glaring weaknesses that you can take away from it.
"I think it gave the organization an opportunity to evaluate. When there is that evaluation period, a lot of these guys have got an extended amount of playing time -- playing time they probably wouldn't have had if it wasn't for injuries or trades or things like that. Hopefully the front office got everything they needed to see with who they want to move forward with and those tough decisions to either trade or not sign or whatever those tough decisions that need to be made.
"Probably the best thing that came out of this year is the emergence of some of these young pitchers, the emergence of some of these younger prospects in the minor leagues."