NEW YORK -- David Wright did not dodge a pitch from right-hander Johnny Hellweg, but he appears to have dodged a bullet. Beaned in the head with an 86 mph changeup, Wright departed in the third inning but subsequently passed concussion tests, a source told ESPNNewYork.com.
The Mets went on to lose to the Milwaukee Brewers, 4-2, on Thursday night at Citi Field.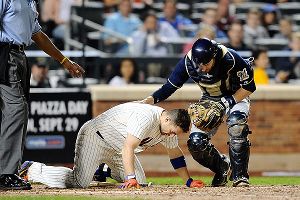 Maddie Meyer/Getty Images
David Wright was plunked by a third-inning pitch from Johnny Hellweg.
One personal feat Thursday: Eric Young Jr. recorded his 43rd and 44th steals, moving him into a tie for the National League lead with Jean Segura of the Brewers, who is sidelined with a hamstring strain.
In his final 2013 start, Dillon Gee departed for a pinch hitter in the bottom of the sixth with the Mets trailing, 4-1. Unless Terry Collins sneaks Gee into a relief appearance Sunday, Gee will finish one inning shy of 200 for the season. He is 12-11 with a 3.62 ERA.
The Mets dropped to 32-46 at Citi Field this season. They finished with a 41-40 road record.
As for potential payback for Wright's beaning, David Aardsma plunked Jonathan Lucroy to open the eighth.
The Mets went 0-for-14 with runners in scoring position.
What's next: Carlos Torres (4-5, 3.36 ERA) opposes right-hander Yovani Gallardo (11-10, 4.23) at 7:10 p.m. Friday. The Mets will present their Sterling Awards to top prospects from each level before the game. Among those in town: 2013 first-round pick Dominic Smith.