Before becoming the 27th inductee into the Mets Hall of Fame, Mike Piazza spoke with media. Here are select answers ...
On his favorite moment in New York:
"For me it was probably my last day here at the end of the season in 2005, the love that was shown from the fans. And then to transition that into playing with San Diego the next year and coming back here, and after hitting two home runs getting cheered. I don't know if I would have hit the third one if it would have been cheers. But I would say that truly blew me away. I can't express it.
"And, I think, my relationship here with the fans. Like any relationship, when I got here they didn't know me too well. They didn't know anything about me. They didn't know if I was going to stay. They didn't know if I was completely committed to staying here. And I had some rough patches. I obviously struggled a little at the plate driving in runs and they let me hear it, and I was thinking to myself, 'I can do one of two things: I can run and go to somewhere a little more safer and comfortable. Or I can meet this head-on and try to prove to these people that I want to belong and want to play for them and perform for them.'"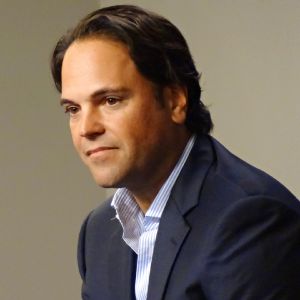 Adam Rubin
Mike Piazza speaks at Citi Field on Sunday afternoon.
On the first homer back in New York after 9/11:
"When I think about that day, I really think for me it was just that we were all together. The home run -- no question, the way people put that in a place is an honor for me. But that week, and what we went through that week, the fact that we were just together and we were able to hug and see family and at least try to not move on, but at least just be with people you care about, that's one thing that a baseball game is. Just driving in today, it was interesting seeing the people out in the parking lot tailgating and barbecuing. That's what I think about. Yeah, the home run was awesome and I was so blessed and fortunate that I was able to execute at that moment. Looking back, the only reason why I think I got through that moment was just a lot of prayer and a lot of just asking for the strength to get through and do my job."
On being a Met:
"I look back now, in retrospect, and realize it was just fate. I was just meant to be here. That's that feeling I was talking about. You know, you can talk about agents and numbers and arguments and who's right and who's wrong. But if you look at the big picture of life, you realize that sometimes there's just a destiny in things. And I truly feel it was my plan to be here, in one way, shape or form. It may not have been the most beautiful journey at the time, but it was meant to be."
On the key to the Mets developing another Mike Piazza-type player:
"Well, I've got a boy. He's two months old. I'm going to train him, but the rest is up to him. I told Jeff [Wilpon] I'll give him the first crack at him in a few years when he's ready. He's not going to be cheap."
On catching Tom Seaver on the last day at Shea Stadium, during the closing ceremonies after the Mets' 2008 collapse:
"I never thought I was going to get out of junior college to be on the same field with Tom Seaver. And to catch the last pitch at Shea from him, it's something, I can only say it's a miracle, really. It is a small miracle. I truly feel that. Tom is iconic. A legend. To be on the same field as him and to close out Shea Stadium is something, really, what an honor."
On playing in the steroid era and the impact on Hall of Fame balloting:
"I just feel it's an unfortunate consequence of that era. Not to get into a deep dissertation of fault. In a perfect world, if we could go back and do things again, I'm sure we would have done a lot of things different. With that said, that's just something I hate what happened to the game. But the positive is that you see how resilient the game is. You see at the end of the day it comes down to baseball. It is a game that has shown through its ups and downs and through its imperfection, it is a game that people really love. As I've said, I wish we could go back and do it differently. And I'm sure it would have been a different world. But I truly feel baseball doesn't get enough credit for the fact they are trying to really make a statement, to understand there's no place for PEDs in baseball and sports in general.
"The Hall of Fame, I truly feel I got a lot of support. It's a process. I'm very proud of my career. Obviously I put my body of work up against anybody, I've said before. But, you know what? I truly feel that the process is a beautiful thing as well. It is what it is. I mean, looking back, Yogi [Berra] had three ballots. And Joe DiMaggio three ballots. When you retire, you get retrospective. You think of things in the bigger picture. And so if I'm so blessed and honored to get to that point someday, I will enjoy it and be proud and wear the honor that is so important. Up until that point, I can only do like an artist -- here's my work, my canvas -- and it's out of my hands. The process, it's cool and amazing and very interesting and historic. I know throughout history there is always going to be debate. That's the best thing about baseball. That's the best thing about sports."
On whether he has a future in baseball in uniform beyond the World Baseball Classic with Team Italy, or in the broadcast booth:
"When I was playing, I said I wanted to be a bachelor in the big leagues for a few years, and it turned into 10 for some reason. To segue that, my point is: I've been retired now, and I find myself playing golf and doing things. It is nice that you can pick your own schedule. I always loved the game. I loved the Classic. It was fun. I don't rule anything out. Obviously having smaller kids and starting my family later in life, maybe when my girls don't think I'm as cool and I have more time, I'll be like, 'OK, now I can do it.' But I definitely don't want to close any doors. I love the game. I feel like I'm a good teacher, because I learned from the great teachers that taught me. And I think it's a small way to give back. But we'll see. I never say never. And I feel timing is big now. I didn't understand that when I was younger. Now, when I'm a little more evolved, timing is an interesting thing. So if the timing is right, I don't rule anything out."