The Mets first game of August, a 14-1 loss to the Diamondbacks, belonged in July, a 9-17 debacle that marked the worst July the Mets have had since going 9-18 in 2003.
It was a month that was ugly in many respects, one reminiscent of 2009, and the scary thing is that as bad as the Mets were in these 31 days, they had three calendar months last season that were worse.
If June was a month in which the Mets established themselves as consistent contenders, July was one in which they often looked despondent and done. August may seal their fate. We'll know more after these next six games against the Braves and Phillies.
For now, we review some frustrations that were here, there and everywhere throughout the month:
Mike Pelfrey pitched like Randy Jones
I was seven in 1982, my first full year as an intense baseball fan, and one of the players who stood out most to me that Mets season was a lefty starter named Randy Jones.
Within my rudimentary understanding of baseball, I was able to grasp that Jones was at first, really, really good, and then he was really, really bad, and then he was really gone (translation: he retired).
On May 23 of that season, Jones, a former Cy Young Award winner for the Padres, beat the Astros, improving his mark to 6-2 with a 2.74 ERA.
From that point on, Jones pitched in 17 more games, making nine starts. He won once. He lost eight times. And the Mets lost the other eight games he pitched. That June, Jones went 0-4 with an 11.93 ERA.
Worst ERA in Calendar Month
Mets History, Minimum 5 Starts
I invoke Jones' name in relation to Mike Pelfrey, who joined Jones as two of the four pitchers in Mets history to make five starts in a month and finish with a double-digit ERA.
Pelfrey and Jones also share the common thread of first-inning issues (Jones had two starts in which he didn't get a batter out, but I believe he had injuries as an excuse).
Pelfrey wasn't quite as bad as Jones was, but he was in the same ballpark (actually he was in Citi Field, Jones was in Shea, but you get the point). He finished 0-3 in five starts with a 10.02 ERA. Opponents hit .429 against him. As good as Pelfrey was in April, he matched that for mediocrity in July.
Ruben Tejada hit like Don Zimmer
Because of Ruben Tejada's fine ability at turning the double play, we were advocates of keeping him up in the majors when Luis Castillo returned, but the Mets sent him back to Triple-A. The reasoning being seasoning-- Tejada's bat made Castillo look like Mike Piazza by comparison.
Worst Slugging Percentage
Calendar Month, Mets History
Tejada hit .108 for the month, without managing an extra-base hit. His .108 slugging percentage in July was the worst by a Met in a calendar month (minimum 40 plate appearances) in 38 years.
We invoked the name Don Zimmer in here, and he's someone who couldn't hit either during his rather brief Mets career during the team's inaugural season, as the accompanying chart shows.
But he once said something smart that we found online, which Tejada should take to heart as he works his way back to the major leagues:
"What you lack in talent can be made up with desire, hustle and giving 110 percent all the time."
Wise words.
R.A. Dickey Had A Lot of Bad Luck
R.A. Dickey deserved a better fate than that which befell him in July. This was a case where a pitchers win-loss record was very misleading.
Dickey was 1-3 with a 1.51 ERA for July, the first time a Mets starter lost at least three games in a month in which he had an ERA below two (Jae Seo was the last, with a 1.71 ERA in September, 2003)
Best ERA in Calendar Month
3+ Losses, Mets History
Dickey might be the poster-boy for how to properly pitch in Citi Field. His ERA in the ballpark is 1.53 in five starts there, and the win-loss record of 4-1 rings a little bit more on the deserving side.
You may recall that we gave the Cy Young Award (or at least Pitcher of the Month) to Santana for July with one start remaining for him in the month. Our declarations were premature.
We're recalling that awarding, thanks to the struggles Santana had against the Cardinals, and giving it to Dickey instead.
Speed went into a slump
With the offense as inept as it was on the 11-game road trip, the Mets forced the issue on the bases and paid the price.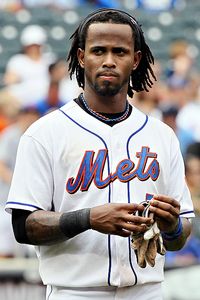 Jim McIsaac/Getty Images
Jose Reyes had his share of frustrating moments on the bases for the Mets in July.
They entered the road trip having stolen bases successfully on 81.6 percent of their attempts (including 50 steals in 57 attempts at home), but were caught stealing seven times in 13 attempts in the 11-game, 2-9 disaster.
It's little things like that which would explain why the Mets went 2-8 in one-run games for the month. In fact, all six of the games that the Mets lost in July, in which they had a caught stealing, were one or two-run games.
The only player immune from the stealing struggles was Angel Pagan. By far the Mets best offensive player in July, Pagan was 9-for-10 in stealing bases. The rest of the team was 7-for-15.
Most shocking: Jose Reyes stole one base in four tries. It was the first time Reyes was successful in stealing bases less than half the time in a calendar month. The other: June, 2003 –- his first month in the major leagues.
'Frenchy' to the 'Benchy' didn't work
The return of Carlos Beltran clearly made Jeff Francoeur a little anxious, and his hitting since the All-Star Break epitmoizes the Mets angst-ridden state of mind.
Jason Bay's injury put Francoeur back into the lineup, but it hasn't mattered where Francoeur has been. Every at-bat seems like a race to be finished.
In 38 turns from the All-Star Break to the end of the month, Francoeur saw a total of 132 pitches. He swung at a whopping 61 percent of them, and according to our Inside Edge video review data, he chased nearly half of the balls thrown outside the strike zone.
Quite 'Franc'ly
Francoeur: July 15-31
Francoeur basically went up to the plate with a strategy of hack till you drop. Of the 34 turns that didn't end on the first pitch (the four that did were outs), Francoeur was left in an 0-1 count on 26 occasions.
Advantage: Pitcher. Gargantuan advantage: Pitcher. Though it didn't really matter. On 0-1 counts, Francoeur was bad. On any other count he was just as bad.
Not surprisingly, Francoeur's batting average to start the second half -- a rather dreadful .114. That's how you wind up with months like the Mets just completed.
Mark Simon is a researcher for Baseball Tonight. Follow him on Twitter at @msimonespn