Read or listen to any interview with Sandy Alderson and he'll bring up the idea that the Mets don't just need to get better players, they need to find ways to make their own players better.
With that in mind, let's look at the roster and cite the five biggest improvements that would be key to getting better performances in 2014.
D'Arnaud: Bat wrap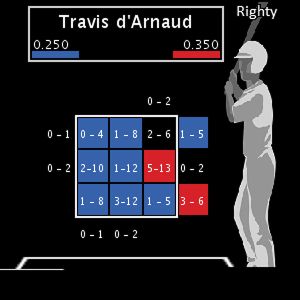 As John Kruk pointed out after watching Travis d'Arnaud on "Sunday Night Baseball," the Mets catcher takes a long time to get his swing going.
As the heat map on the right shows, d'Arnaud did not have success in areas of the plate in which it would be necessary for a good hitter to perform well.
D'Arnaud acknowledged this at season's end.
"That was more me trying to hit the ball 600 feet," he said. "When I would try to do that, I would overwrap or overswing pretty much, and it would just dig me in a bigger hole."
Now it's up to him to fix it.
Wheeler: Fastball command/third pitch
The Mets saw a couple of different versions of Zack Wheeler in his first 100 big league innings.
One distinction was between the Wheeler who commanded his fastball and the Wheeler who didn't. Wheeler's five best starts of the year in terms of fastball strike rate and fastball called-strike rate were a match.
Zack Wheeler – 2013 Season
By Fastball Strike Rate
The chart on the right shows the difference between how Wheeler fared in those games versus how he fared in his other 12 starts.
That's not to say he didn't have good games when his fastball command was erratic, but good fastball command for him was a key to success.
The other key for Wheeler will be gaining confidence in his curveball or changeup. Wheeler averaged about 10 curves and three changeups per game but threw them for strikes about half the time. His curveball strike rate ranked 11th worst among the 143 pitchers who made at least 10 starts and threw at least 100 curves.
Murphy: Defense
Daniel Murphy played a good first 500 innings in the field this season. He looked comfortable at second base, was effective turning double plays and overall rated as a major league average defender, well better than he did in previous tries at the position.
Daniel Murphy – 2013 Season
Then came a switch to first base when Ike Davis was demoted. After the results of that were not good, Murphy returned to second base and returned to his former struggling self. He started botching routine grounders he was previously fielding, as the chart on the right (which focuses on the sabermetric stat RZR) shows.
Murphy finished the season at minus-13 Defensive Runs Saved at second base, two runs worse than he did in 2012 in about 200 more innings.
Unless it improves, Murphy's defense is going to be a hindrance to his overall value (costing him 1.5 Wins Above Replacement in 2013).
The first two months of the season showed his defense could improve. It's something he needs to continue working on with Tim Teufel.
Young: Home cooking
When Alderson spoke Monday about the Mets needing players to hit better at Citi Field, he was talking about players like Eric Young Jr.
Young had a .201 batting average at home as a Met, compared to .293 on the road.
There's a specific reason his home numbers weren't as good. Young's ratio of balls hit on the ground (including bunts) to balls hit in the air was 107-to-67 on the road but only 75-to-65 at home. And in Citi Field, Young was hitting twice as many fly balls as line drives, whereas on the road, the two were an even split.
Citi Field is a big ballpark. Young's fly balls are conducive to easy outs. He hit .140 when he hit one there, .235 when he hit a ground ball.
Young's role on this team is to get on base and turn singles into doubles and triples by stealing bases. The easiest way for him to do that is to hit the ball on the ground as often as possible. That's the mindset the team will be looking for, as Terry Collins acknowledged throughout September.
Lagares: Smarter approach
Juan Lagares produced tremendous value with his defense, but his offensive game needs a lot of work.
Lagares' chase rate (how often he swung at pitches out of the strike zone) and called-strike rate (how often he took a pitch called a strike) were both about 6 percentage points above the league average.
In other words, Lagares often took when he should have swung and swung when he should have taken.
Much of this stemmed from Lagares' inability to handle a good slider from a right-handed pitcher. Lagares made 58 outs and had eight hits and two walks against that pitch.
Every Mets right-handed-hitting position player fared better, and most were considerably better.
Lagares needs to do with sliders what he does with fielding fly balls -- catch up to them.