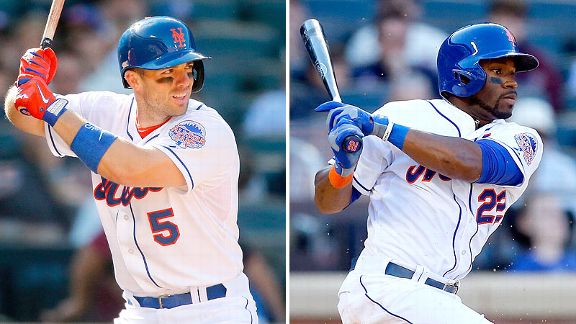 Getty Images
David Wright and Eric Young Jr. are Gold Glove finalists.David Wright and Eric Young Jr. have been nominated for Gold Glove awards.
The other National League finalists at third base are Colorado's Nolan Arenado and Los Angeles' Juan Uribe.
The other finalists in left field are Colorado's Carlos Gonzalez and Pittsburgh's Starling Marte.
The winners will be announced at 8 p.m. ET Tuesday on ESPN2.
Despite producing a franchise rookie record with 14 outfield assists, Juan Lagares was not among the finalists in center field. The finalists are Milwaukee's Carlos Gomez, Pittsburgh's Andrew McCutchen and Washington's Denard Span.
Wright has won two previous Gold Gloves -- in 2007 and 2008. San Diego's Chase Headley won the award in 2012.