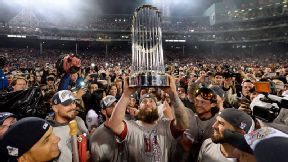 Rob Tringali/MLB Photos/Getty Images
The Red Sox winning the World Series means full free-agent bidding begins Tuesday.
With the Boston Red Sox having won the title, bidding for free agents is only a handful of days away.
Teams are permitted to bid and sign other teams' free agents on the sixth day after the World Series. That means the Mets and other teams can start bidding on any available free agent on Tuesday.
Other dates to watch this winter:
• The GM/owners meetings will be held Nov. 11-13.
• The winter meetings will be held Dec. 9-12.
Both sets of meetings will be held this offseason in Orlando, Fla.