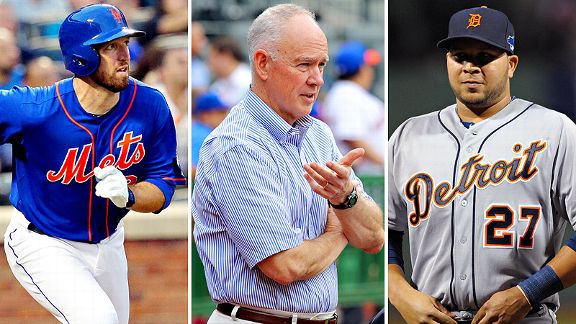 USA TODAY Sports
Ike Davis may get traded by Sandy Alderson, who met with Jhonny Peralta during the GM Meetings.ORLANDO, Fla. -- Sandy Alderson joked about stacking Fred Wilpon's $5 bills in the Mets suite at the JW Marriott Grande Lakes. Scott Boras uttered his annual zinger about the Mets' frugality. And the Mets brain trust departed the GM Meetings midday Thursday having laid some groundwork but with nothing tangible to show for their four-day stay.
Of course, groundwork but no action could be said for nearly every team that attended.
"We met with some clubs. We met with some agents. Laid some groundwork. Had some phone calls," Alderson said. "Some agents didn't attend these meetings. We made progress."
Marlon Byrd did sign a deal with the Philadelphia Phillies that guarantees him $16 million over two seasons, which signals just how exorbitant free-agent prices likely will be this offseason.
The Mets?
They began meeting with teams considering acquiring Ike Davis, with the Tampa Bay Rays, Baltimore Orioles, Colorado Rockies, Milwaukee Brewers and Houston Astros all having had at least preliminary dialogue with the Mets, according to team sources.
The Mets may also deal Daniel Murphy this offseason. He is due for a salary of about $5.1 million next year and is eligible for free agency after the 2015 season. If Murphy is dealt -- not a foregone conclusion, unless it can address other needs -- Eric Young Jr. potentially could slide to second base.
"It's possible that a number of factors will lead to more trades -- the inflation in the free-agent market, or potential inflation, as well as draft-choice compensation and those types of things," Alderson said, speaking generally about the volume across MLB. "If we're going to see an uptick in trade activity, it probably would be a little bit later, unless clubs conclude as early as now that the free-agent market just isn't attractive, or is too expensive. We'll just have to wait and see how things develop."
A team official acknowledged the Mets' wish list is bringing in two corner outfielders, two starting pitchers, a shortstop and veteran backup catcher and some late-inning relief help leading into Bobby Parnell and Vic Black. The veteran catcher is not a priority, though, considering Anthony Recker can handle that workload.
The Mets met in person with free-agent shortstop Jhonny Peralta on Tuesday night. Peralta served a 50-game suspension last season related to Biogenesis, which one would think would depress his asking price. Still, with the scarcity of available shortstops, Buster Olney reports Peralta is seeking "far more" than $45 million over three years. It is difficult to envision the Mets signing him if the bidding gets that high.
In fact, despite the Mets publicly acknowledging touching base with the agent for Curtis Granderson and also reportedly expressing interest in fellow free-agent outfielder Nelson Cruz, a team insider severely downplayed the likelihood the Mets will sign any player who received a $14.1 million qualifying offer from his former team. That 13-member group includes Granderson and Cruz as well as shortstop Stephen Drew.
The only player receiving a qualifying offer the Mets likely would seriously entertain is outfielder Shin-Soo Choo. But a team insider said the Mets were unlikely to bid beyond four years. And Alderson is now on the record suggesting the Mets would not have a second $100 million contract alongside the one belonging to David Wright. So Choo, represented by Boras, looks headed elsewhere, too. The Mets and Boras did not meet face to face during the GM Meetings, according to the agent, although Jeff Wilpon did have a seemingly pleasant conversation with Team Boras in the JW Marriott lobby on Wednesday afternoon.