Sandy Alderson appeared with Mike Lupica on ESPN New York 98.7 on Friday afternoon. And the topic, as often is the case with the Mets, centered on money.

Listen to the complete interview:

Asked if he could craft the Mets into a "legitimate playoff contender" this offseason, Alderson began by suggesting the state of the franchise is not "dire" even before free agency gets underway in earnest.
"Nobody can guarantee anything," Alderson said. "I start with the premise that during the last 100 games of last season we were pretty good. We were .500. That's not great, but it's not real bad. It was a nice starting point. We haven't really lost much from the group that went .500 the last 100 games. We get some players back. So the starting point isn't as dire as some people like to imagine, I don't believe.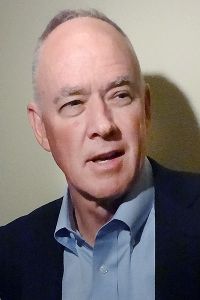 Adam Rubin
Sandy Alderson appeared on ESPN New York 98.7 on Friday.
"We're working hard to improve the team. Again, we have a little more flexibility than we've had in past years, which was a goal of ours going into this offseason. So that's a plus. Because nothing has happened to this point, as it hasn't happened in 28 other cities, is no big reason to panic. We're doing our work. We understand people want to see improvement. We want to see improvement as well. We'll continue to work straight through to March 31."
On fan disdain for the Mets' payroll level, which ESPNNewYork.com believes will go slightly downward from last year's roughly $95 million, Alderson said: "No fan is probably ever going to be satisfied with what his or her team is spending on players. It's kind of too bad that the measure of commitment, the measure of loyalty to the fan base, is measured in dollar signs. That be as it may, we're going to spend more money this year than we've spent in recent years, just in terms of what we have to spend. You know, last year we only spent about $5 million on free agents (Shaun Marcum and Brandon Lyon). So this is going to be a new day. We have it to spend. We have to spend it wisely. That's what we're trying to do."
Told $5 million is like agent Scott Boras' property taxes, Alderson replied: "That's probably his California state taxes, yeah."
Finally, asked about the "Red Sox model" the Mets widely have discussed emulating, which means mid-tier free agents rather than premier free agents, Alderson said: "Look, I referred to the fact that we spent $5 million on free agents last year. They spent close to $70 million just for last year. I just want to make sure we understand the 'Red Sox model' is not inexpensive.
"In some ways, they were similar to the Mets probably in the sense that they got burned by some big contracts, decided not to go that route, decided to protect their draft picks and ended up signing players with the resources they had in what you might loosely define in the mid-range, but in actuality Stephen Drew [was signed] at $9.5 million ...
"And, of course, the real kicker is: Can you do it again? Or can another team do it again? So I think there's a lesson to be learned there. But the notion that 10 teams this year are going to follow the Red Sox model, it's like chasing money in the stock market. At some point the same thing doesn't necessarily work over the succeeding period of time and you've got to come up with a different concept.
"Look, we've got some holes to fill. We're going to try to do that."