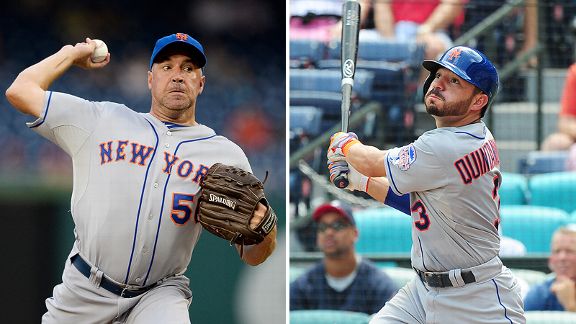 Getty Images
Scott Atchison and Omar Quintanilla would appear among the vulnerable as the tender deadline approaches at midnight.The Mets may cut loose at least two players today as the deadline to tender contract offers arrives at midnight.
Arbitration-eligible Scott Atchison and Omar Quintanilla would appear among the most vulnerable of getting non-tendered and becoming free agents.
Atchison earned $700,000 last season while posting a 4.37 ERA in 45 1/3 innings. He spent two months on the disabled list -- first with elbow inflammation that caused numbness in his fingers, then with a groin injury while throwing warm-up pitches in Atlanta in his first game after being activated. Atchison turns 38 during spring training.
While Quintanilla can be useful off the bench, the Mets have Justin Turner for a backup middle-infield role. And the Mets have resolved that Quintanilla cannot serve in a starting capacity.
So the question would be: Do the Mets want to cut Quintanilla loose, then consider re-signing him on a minor-league contract that includes a salary closer to the $500,000 major-league minimum? That way, Quintanilla also would be off the 40-man roster.
He hit .222 with two homers and 21 RBIs in 315 at-bats last season.
One player who should not be non-tendered: Ike Davis. That does not mean Davis will remain a Met in 2014. Quite the contrary. But the club plans to trade Davis -- or, in a less likely scenario, Lucas Duda -- not cut Davis loose for nothing in return. Davis earned $3.125 million last season. He is projected to command $3.825 million in 2014.
Before non-tendering players, the Mets' 40-man roster is full.