Getty Images
Will Curtis Granderson join Mr. Met for 81 appearances at Citi Field in 2014?Sandy Alderson met with free-agent outfielder Curtis Granderson on Sunday. That's a long way from a signed contract. Until the Mets demonstrate they are willing to pony up for a big-time free agent, fans have every right to be skeptical.
By the way, Granderson -- on a union conference call Tuesday -- told reporters about the Mets meeting: "We ate a nice meal, and it was great to enjoy some salmon."
Still, if you're looking for the optimistic take, here are five reasons Granderson would help the Mets:
1. The Mets need power. There's little secret the Mets lack deep threats in their lineup. Last season, the Amazin's produced 130 homers, which ranked 11th in the National League. The Mets surrendered 22 more long balls than they produced -- a certain recipe for getting beaten. Enter Granderson. He slugged 41 homers in 2011 and 43 in 2012 with the Yankees before last season's injury issues limited him to 245 plate appearances. Of course, there needs to be a significant park adjustment going from Yankee Stadium to Citi Field.
2. The Mets need lefty bats. David Wright bats righty. So does Chris Young. And Juan Lagares. And Travis d'Arnaud. And Ruben Tejada, who is the shortstop, at least for now. In fact, the projected first baseman (Lucas Duda) and Daniel Murphy (for now the second baseman) are the only full-time lefty hitters, plus Eric Young Jr. as a switch-hitter.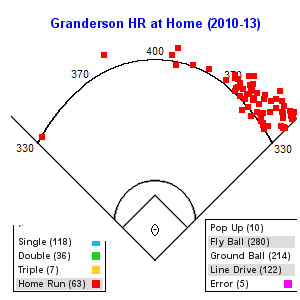 ESPN's Mark Simon plots Granderson's Yankee Stadium homers from 2010 to 2013. Citi Field will not be as friendly.So the Mets can use more lefty bats in their lineup. The Mets went 49-62 (.441) against right-handed starting pitchers and 25-26 (.490) against left-handed starting pitchers last season -- an illustration of the need to balance the lineup with a player such as the lefty-hitting Granderson.
3. The Mets need outfielders. Right now, the Mets would be putting out an outfield with the two Youngs plus Lagares in center field. While they might cover a lot of ground, the combined offensive production of those three players last season was .234, 18 homers and 106 RBIs in 1,266 at-bats. Ouch.
4. The Mets need protection for Wright. Would Granderson hit directly behind Wright? That would seem pretty likely in a lineup in which Terry Collins likes to alternate lefties and righties. You could see Nos. 2-6 being Murphy (l), Wright (r), Granderson (l), Chris Young (r), Duda (l).
5. The Mets need to spend money. This is New York. The biggest contract Alderson has awarded to a free agent in four offseasons as Mets GM is two years, $12 million to Frank Francisco. Enough said.