Mike Pelfrey, who once owned a 9-1 record, continued his swoon at an inopportune time for the Mets. Even with Hisanori Takahashi bailing Pelfrey out of a bases-loaded jam in the fifth inning, Pelfrey still was charged with five runs (three earned) on eight hits while striking out one and walking two in 4 2/3 innings.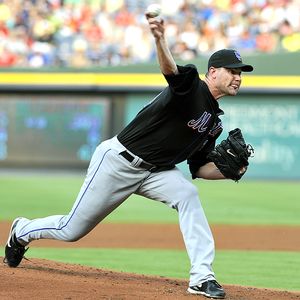 AP Photo/Gregory Smith
Mike Pelfrey had been considered an All-Star candidate. Now, his swoon continues.
Pelfrey surrendered consecutive two-out solo homers to Chipper Jones and Brian McCann in the third inning as Atlanta took a 3-2 lead en route to the 8-3 victory. Pelfrey also surrendered a first-inning run for the 10th time in his last 11 starts.
He's now 10-6 with a 4.16 ERA this season.
"The team needed me to step up and be a lot better than I have been," Pelfrey said. "Giving up five runs isn't cutting it. I take full responsibility for tonight. Starting pitching sets the tempo. I didn't do that. I take responsibility for the game."
Jerry Manuel had recently suggested Pelfrey was not immune from being skipped for a start if he continued to struggle. Manuel offered no such indication that was his intent after Wednesday's loss, even with Monday also a team off-day.
The reality is if the Mets are going to have any chance of competing down the stretch, they need Pelfrey on track -- not being bypassed. Manuel complimented the life on Pelfrey's fastball despite the loss.
"We're going to need Mike down the stretch, and in the future," David Wright added. "It's something that he's going to have to work himself out of. I really think he had, for the most part, pretty good stuff tonight. He was throwing the ball really hard. They hit some good pitches, had some good at-bats. They've got some guys that just see him real well."
GREEN DAY LOOMING: Reliever Sean Green, who has been on the disabled list since mid-April with a hairline rib fracture, is nearing a return to the Mets. Green has worked back-to-back days for Triple-A Buffalo. A team official said it had not been discussed that Green would return this weekend at Philadelphia, but that could change when Mets brass huddles Thursday.