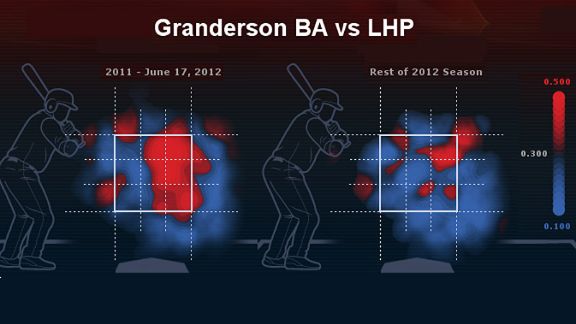 Curtis Granderson's performance vs left-handed pitching tailed off at the end of 2012.Right after the season ended, we took a look at what some of the current Mets could improve upon to better the team's chance of winning in 2014.
Curtis Granderson has some work to do as well.
Curtis Granderson
If you want to chalk up Granderson's 2013 numbers to injury issues and rustiness, that's fair. We'll throw those out. But let's take a look at what happened to him in his last healthy season.
Granderson had a 2 ½ month stretch in 2012 in which he was a similar hitter to what he was in the latter part of 2010 (when he made adjustments to his swing), and in 2011, when he was an MVP candidate. And then he went into a funk that lasted the rest of the season.
Granderson's struggles could be attributed to a number of things, but the one that jumps out is his struggles against left-handed pitching.
Granderson's performance against left-handers was a big reason for his 2011 success.
But somewhere around mid-June, lefties changed how they pitched to Granderson, and his numbers plummeted. If this looks and sounds familiar, it's the same sort of thing Ike Davis went through a couple of years ago.
Granderson vs lefties
Lefty pitchers threw Granderson more breaking balls and fewer fastballs. When Granderson was going good, he'd see about seven breaking balls for every 20 pitches from a lefty. That jumped to 9 per 20 over the last three-and-a-half months of 2012.
Granderson's issues were more with the curveball than with the slider, particularly the curve that swept in as a borderline strike, knee-high and on the outside corner. That pitch has consistently given him trouble. The more he saw it, the more his numbers dropped.
Granderson made more outs on curveballs from lefties in the final three months of 2012 (34) as he did in the 15-month stretch encompassing 2011 and the start of 2012 (32).
The change in approach resulted in Granderson missing on a much higher rate of his swings. It may have thrown him off in a couple of other ways. He went from hitting a line drive at a rate of once every 33 pitches against lefties to doing so once every 64. And when he did hit the ball in the air, he wasn't pulling it as often as he previously did. That cut down both on his home runs and his singles.
In all, the differences in Granderson's performance against lefties in that three-and-a-half month stretch took nearly 20 points off his batting average, turning a guy who hit in the .250s to one who hit in the .230s, hence the skepticism from some.
For what it's worth, Granderson went 15 for 62 (.242 batting average, .435 slugging percentage) against lefties in 2013, but that small sample coincided with him again seeing curveballs in limited doses. You would figure National League lefties (like Cole Hamels, Cliff Lee, Gio Gonzalez and Mike Minor to name a few division rivals) will figure Granderson out pretty quickly.
The Mets would be well advised to do the work so that they're ready with the necessary adjustments for Granderson when that happens.