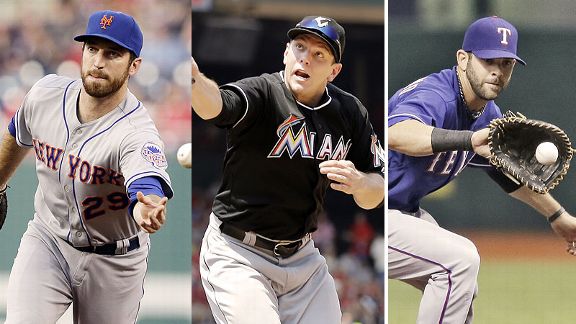 Associated Press
Ike Davis is available via trade, but so is Miami's Logan Morrison and potentially Texas' Mitch Moreland.LAKE BUENA VISTA, Fla. -- In trying to trade one of their first basemen, the Mets do not only have competition from free agents such as Corey Hart and James Loney. They also have competition from the Miami Marlins and potentially even the Texas Rangers.
That's because Logan Morrison is on the trade block. Mitch Moreland potentially could get dealt, too.
"There's always going to be an alternative," Sandy Alderson said.
Asked if he could get caught in a game of musical chairs where he ends up getting left with nowhere to send Ike Davis or Lucas Duda, Alderson responded: "Not all first basemen are the same. We'll see."
A team official did not believe the Mets were close to a deal involving Davis on Monday.
The Brewers, Rays and Astros are among the teams looking for first-base help. Milwaukee, though, would like to re-sign Hart if the bidding does not get too high. And although the Astros have Davis on their list, there does not appear anything serious going on at the moment with the Mets.