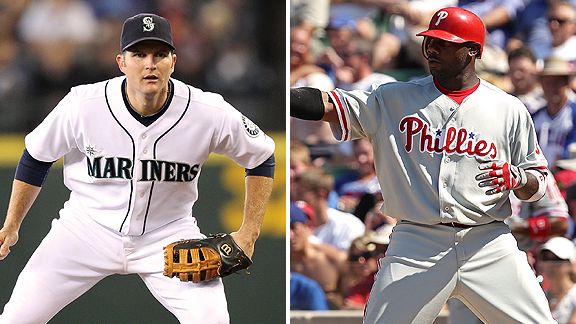 Getty Images
The Phillies acquired Mike Sweeney (left) on Wednesday to play first base with Ryan Howard having landed on the disabled list.
METS (54-54, third place/NL East) at PHILADELPHIA PHILLIES (60-48, second place/NL East)
Friday: LHP Jon Niese (7-5, 3.78) vs. RHP Joe Blanton (4-6, 5.86), 7:35 p.m. ET
Saturday: LHP Johan Santana (8-6, 3.20) vs. LHP Cole Hamels (7-7, 3.56), 7:05 p.m. ET
Sunday: RHP R.A. Dickey (7-4, 2.36) vs. RHP Roy Halladay (13-8, 2.17), 1:35 p.m. ET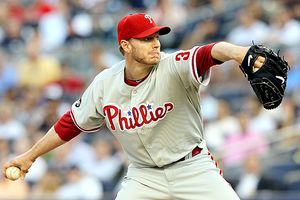 Jim McIsaac/Getty Images
Roy Halladay was the National League Pitcher of the Month for July.
Phillies short hops
Mike Sweeney joined the Phillies on Thursday in Miami, a day after being acquired from the Seattle Mariners for a player to be named or cash. Ross Gload started at first base for a second straight game against the Florida Marlins, with Sweeney set to get his first start as a Phillie on Friday against the Mets. Sweeney pinch hit and walked in his Phillies debut. He started only three games at first base for the Mariners this season, and has started only 167 games at the position during a 16-year career. Sweeney twice was on the disabled list this season with back issues, but has indicated he is no longer troubled by the injury. The need to acquire Sweeney to man first place came after Ryan Howard -- who had a National League-leading 81 RBIs -- landed on the disabled list with a sprained left ankle, which he suffered Sunday at Washington. The All-Star first baseman had played in all 162 games in 2008 and in 160 games in 2009. Infielder Cody Ransom (.190, 2 HR, 5 RBIs) was designated for assignment to clear roster room for Sweeney. Sweeney has played in 1,429 games without a postseason appearance, third most among active players. … Howard is one of three Phillies starters on the disabled list. Second baseman Chase Utley underwent July 1 surgery to repair a left thumb ligament and is not expected back until the end of the month. Center fielder Shane Victorino is sidelined with an abdominal muscle strain. Ex-Met Wilson Valdez has filled in for Utley at second base. Rookie outfielder Domonic Brown, 22, was promoted July 28 to replace Victorino. Brown represented the Phillies in the Futures Game in Anaheim, Calif., last month and recently was tabbed baseball's top prospect by Baseball America. Brown is a former University of Miami football recruit. He likely will be shielded from some left-handed pitching. … Right-hander Roy Halladay is the reigning National League Pitcher of the Month. He went 3-1 with a 1.54 ERA in June. … Philadelphia solidified its rotation by acquiring Roy Oswalt from the Houston Astros for left-hander J.A. Happ and minor leaguers Anthony Gose and Jonathan Villar at the trading deadline. Houston is paying $11 million of the $23 million owed to Oswalt through 2011. … Brad Lidge remains closer, despite underwhelming results, including a 4.88 ERA. He notched his 12th save in 16 chances Thursday, but has allowed 11 earned runs in 10 2/3 innings over his last 12 save opportunities. … Shortstop Jimmy Rollins fouled a ball off his left foot early last week, then missed an entire series against the Arizona Diamondbacks. Rollins returned still limping. He has successfully stolen 24 straight bases without being caught, the longest active streak in the majors. … Free-agent-to-be Jayson Werth is playing center field in Victorino's absence. He had seven strikeouts in an eight at-bat stretch at Florida. Still, Werth is hitting .375 (24-for-64) in his last 17 games. … Raul Ibanez went 3-for-4 Thursday to extend his hitting streak to 13 games. The left fielder is hitting .447 (21-for-47) with three homers and 13 RBIs during that span. Ibanez did require X-rays on his sore left wrist last weekend. … Backup catcher/ex-Met Brian Schneider has seen only limited duty this season. He last started July 26. … Jamie Moyer is likely out for the season with ligament and tendon issues in his left elbow. … Philadelphia has won 12 of its past 14 games. It completed a sweep of the Marlins on Thursday after benefiting from a blown call in the ninth inning. Florida's Gaby Sanchez had a hit over third base that should have scored Hanley Ramirez from second base with the winning run, but ump Bob Davidson ruled it foul. Philadelphia won, 5-4, in the 10th on Carlos Ruiz's solo homer. During the current 14-game surge, Phillies starting pitchers are 6-1 with a 2.72 ERA (28 earned runs in 92 2/3 innings). … Outfielder John Mayberry Jr. was promoted from Triple-A Lehigh Valley on Wednesday after Howard landed on the disabled list.
Matchups
Niese vs. Phillies (career: 1-0, 1.29 ERA)
Jayson Werth .667, 3 AB
Carlos Ruiz .333, 1 RBI, 3 AB
Juan Castro .333, 3 AB
Raul Ibanez .000, 3 AB
Placido Polanco .000, 3 AB
Shane Victorino .000, 3 AB
Wilson Valdez .000, 1 AB
Santana vs. Phillies (career: 4-2, 4.11)
Ross Gload .667, 1 HR, 1 RBI, 6 AB
Juan Castro .500, 2 AB
Placido Polanco .414, 2 HR, 5 RBIs, 29 AB
Raul Ibanez .357, 2 HR, 10 RBIs, 42 AB
Ben Francisco .333, 1 RBI, 3 AB
Jimmy Rollins .231, 2 HR, 3 RBIs, 26 AB
Jayson Werth .231, 1 HR, 2 RBIs, 26 AB
Carlos Ruiz .188, 16 AB
Shane Victorino .120, 2 HR, 5 RBIs, 25 AB
John Mayberry .000, 3 AB
Brian Schneider .000, 3 AB
Wilson Valdez .000, 2 AB
Dickey vs. Phillies (career: 1-0, 0.00 ERA)
Ross Gload 1.000, 1 AB
Ryan Howard .667, 3 AB
Brian Schneider .667, 3 AB
Placido Polanco .357, 2 RBIs, 14 AB
Carlos Ruiz .333, 3 AB
Raul Ibanez .273, 1 HR, 2 RBIs, 11 AB
Jayson Werth .250, 4 AB
Greg Dobbs .167, 6 AB
Juan Castro .000, 2 AB
Ben Francisco .000, 2 AB
Blanton vs. Mets (career: 2-1, 2.67 ERA)
Angel Pagan .667, 3 AB
Luis Castillo .529, 1 RBI, 17 AB
Henry Blanco .500, 2 AB
Ike Davis .500, 2 AB
Jeff Francoeur .364, 4 RBIs, 11 AB
Rod Barajas .250, 3 RBIs, 12 AB
David Wright .231, 1 RBI, 13 AB
Carlos Beltran .222, 9 AB
Jose Reyes .083, 1 HR, 1 RBI, 12 AB
Alex Cora .000, 6 AB
Hamels vs. Mets (career: 2-5, 3.98 ERA)
Luis Castillo .385, 2 RBIs, 13 AB
Ike Davis .333, 3 AB
David Wright .308, 1 HR, 3 RBIs, 26 AB
Angel Pagan .300, 1 HR, 4 RBIs, 20 AB
Jeff Francoeur .295, 1 HR, 3 RBIs, 44 AB
Carlos Beltran .286, 2 HR, 3 RBIs, 21 AB
Jose Reyes .273, 2 RBIs, 22 AB
Alex Cora .250, 2 RBIs, 4 AB
Henry Blanco .000, 3 AB
Halladay vs. Mets (career: 3-2, 4.05 ERA)
Jose Reyes .500, 8 AB
Carlos Beltran .407, 1 HR, 7 RBIs, 27 AB
Henry Blanco .400, 5 AB
David Wright .333, 1 RBI, 6 AB
Jeff Francoeur .167, 6 AB
Luis Castillo .143, 7 AB
Alex Cora .120, 1 HR, 2 RBIs, 25 AB
Angel Pagan .000, 4 AB
Ike Davis .000, 2 AB
Last series results:
Mets won 3-0 at Citi Field, May 25-27 (AP game recaps)
Mets 8, Phillies 0: R.A. Dickey became the latest knuckleballer to baffle the Philadelphia Phillies, shaking off an early line drive that hit him on his non-pitching elbow to lead the New York Mets. Jason Bay and Jeff Francoeur each drove in a pair of runs in the opener of a three-game series between NL East rivals at Citi Field, where the last-place Mets are 17-9. Jose Reyes had three hits and scored three times. Two days after 43-year-old Boston knuckler Tim Wakefield tossed eight scoreless innings to beat the Phillies, Dickey shut them down for his first major league win since April 10, 2009, for Minnesota against the Chicago White Sox. Called up from Triple-A Buffalo to replace an ineffective Oliver Perez in New York's unstable and injury-depleted rotation, Dickey (1-0) escaped three bases-loaded jams in the first three innings. The 35-year-old right-hander allowed seven singles in six innings and struck out seven, matching his career high set June 2, 2004, for Texas at Cleveland. He walked three. Dickey was hit on the left elbow by Ryan Howard's line-drive single to start the second. Mets manager Jerry Manuel and a trainer came out to check on Dickey, who threw three warm-up pitches and remained in the game. The next inning, the Mets announced that X-rays on Dickey's elbow were negative and he would be monitored closely throughout the game for pain and swelling. After taking two of three from the crosstown rival Yankees last weekend in an exciting Subway Series, the Mets played a crisp game on both offense and defense that was easily one of their best all-around efforts this season. Reyes created a couple of runs with his speed and New York excelled at situational hitting, putting the ball in play and moving runners along against 47-year-old Jamie Moyer (5-4). Before batting practice, manager Charlie Manuel said he thought facing Wakefield in their previous game could be a benefit to the Phillies against Dickey. Not at all. Despite a lineup featuring five players who were the leading vote-getters at their positions when the initial NL All-Star voting was released, Philadelphia stranded 13 runners. Dickey has been on a roll going back to last month in the minors, when he retired 27 straight batters following a leadoff single in Buffalo's 4-0 win over Durham on April 29. Dickey has been tutored by Wakefield and had said Sunday he would call his knuckleballing friend to pick his brain after Wakefield's splendid outing against first-place Philadelphia. The two-time defending NL champions have lost three straight including a near no-hitter by Boston's Daisuke Matsuzaka. Raul Valdes wiggled out of trouble for New York in the seventh. With runners at second and third and none out, he struck out sluggers Chase Utley and Howard before third baseman David Wright made a diving stop of Jayson Werth's grounder and threw him out with the help of a slick scoop by Ike Davis at first. Valdes worked three innings for his first major league save and even drove a double over Werth's head in right for his first career RBI. The lefty reliever is 4-for-7 at the plate this season, his first in the big leagues. Reyes' first-inning single was his 1,000th career hit.
Mets 5, Phillies 0: Hisanori Takahashi matched his first big league start with six more scoreless innings, Jose Reyes homered and the New York Mets shut out the Philadelphia Phillies for the second straight game. Rod Barajas had a two-run double and a sacrifice fly off Joe Blanton and Reyes had his fourth straight multi-hit game and drove in two runs for New York, which handed the Phillies consecutive shutouts for the first time since April 2008. Luis Castillo had two of the Mets' four stolen bases in their fourth straight win. Takahashi (4-1) gave up five hits without walking a batter and struck out six. He ran the Mets' starters record to 4-0 on the homestand. The 35-year-old left-hander, in the rotation because of injuries to Jon Niese and John Maine, and Oliver Perez's inability to throw strikes, had pitched five-hit ball for six innings against the Yankees in his big league debut as a starter, but the Mets lost that game, 2-1. The Phillies mustered only seven hits in their fourth straight loss. They are hitting .199 ( 51-for-256) in their last eight games and have been outscored 37-15. A night after being shut out by knuckleballer R.A. Dickey, facing the awkward hesitation motion of Takahashi did not help. Philadelphia did not advance a runner to third until there was one out in the sixth, and then Takahashi fooled the Nos. 4 and 5 hitters into easy outs. He struck out Ryan Howard with an 82 mph changeup and got Jayson Werth to hit a fly ball to right. Relievers Jenrry Mejia and Ryota Igarashi each allowed a hit in an inning, and Fernando Nieve pitched a perfect ninth. Ike Davis led off the second by sending a drive off the wall in center field, just to the right of the 408-foot sign, for a double. He went to third on Angel Pagan's single to right and scored on Barajas' sacrifice fly off Blanton (1-3). Reyes talked about how his legs were finally feeling 100 percent the last couple of weeks after missing most of last season with a hamstring injury and the start of this one with a thyroid problem. He hit his first homer of the season leading off the third. In the sixth, Barajas hit a two-run double off Blanton and Reyes greeted reliever Chad Durbin with an RBI single to make it 5-0. Blanton gave up five runs and six hits. He walked four, one intentional.
Mets 3, Phillies 0: Mike Pelfrey and the New York Mets zeroed in once again. Pelfrey and the Mets bullpen pulled off a most extraordinary pitching feat in this big-hitting era, shutting out Philadelphia for the third straight game. Ryan Howard, Chase Utley and the NL champions got swept in the series without scoring a single run. It marked the first time since 1983 that Philadelphia was blanked three days in a row. Pelfrey (7-1) and a pair of relievers held the Phillies to four singles while winning their fifth consecutive game. The big right-hander followed top efforts by knuckleballer R.A. Dickey and Japanese newcomer Hisanori Takahashi as the Mets threw back-to-back-to-back blankings for the first time since 1988. Not since 2004 had any team shut out another club in a three-game series, when Johan Santana and Minnesota blanked Kansas City in that set, STATS LLC said. Jose Reyes, fresh from giving batting tips to the newly crowned Miss USA, was pretty at the plate. He singled and scored in the first, singled the next time up and delivered a two-run double in the seventh that finished Cole Hamels (5-3). After a rain delay of nearly two hours at the start, Pelfrey quickly found his rhythm. He allowed three hits in seven innings, working around five walks while striking out five. Pedro Feliciano handled the eighth and Francisco Rodriguez pitched a perfect ninth for his ninth save in 11 tries. Pelfrey relied on his sinker all evening, with great success. The Phillies either swung over the pitch or worse for them, beat the ball into the dirt to wreck any chances to rally. Placido Polanco, Jayson Werth and Wilson Valdez grounded into double plays to end the third, fourth and fifth innings. The Phils put runners at the corners with two outs in the sixth and, with the Mets bullpen heating up, Howard bounced right into New York's overshifted infield. Pelfrey made up for his only loss this year, a 10-0 defeat in Philly earlier this month.