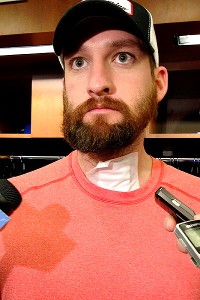 Adam Rubin
Bobby Parnell had bandages protecting his neck area when he spoke to media nine days after his Sept. 10 surgery.
NEW YORK -- Sandy Alderson labeled himself optimistic Bobby Parnell will be able to contribute at his previous level from the get-go in 2014.
Parnell underwent surgery to repair a herniated disk in his neck on Sept. 10. Dr. Robert Watkins performed the procedure in California. Parnell lost 30 pounds while dealing with the issue.
"We're fairly confident," Alderson said. "He's regained the weight. He's about to start throwing again. And we don't anticipate any problems. But that's one of the reasons we're going to have him come back up to New York -- to be seen not necessarily for a surgical follow-up, but just an overall review. But right now we don't have any reason to believe he won't be ready."
Alderson said the visit with Mets doctors has not yet been scheduled, but should occur in the next couple of weeks. Parnell now is due to see Watkins, who performed the surgery, in early January.
If Parnell were not available, Vic Black presumably would be the best current in-house alternative as closer.
The Mets still hope to add a late-inning veteran bullpen arm.
"Well, let's just see what develops with our bullpen," Alderson added. "We've got five or six weeks to go. But if Parnell were not available, there's not a lot of other experience in the bullpen."