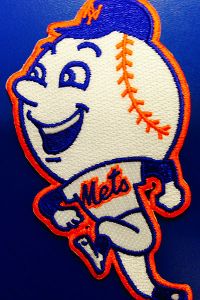 A Mr. Met patch will appear on the left sleeve of the team's blue jerseys in 2014.
A running Mr. Met will make an appearance on the left sleeve of the team's alternate blue uniforms in 2014. The patch will be worn on both the home and road versions of the blue jerseys.
In that same spot, an American flag instead will appear on the Mets' camouflage uniforms, which are scheduled to be worn on five Mondays next season.
The more traditional Mets uniforms -- ivory with royal pinstripe, alternate white, alternate black and road gray -- will have the skyline patch on the left sleeve.