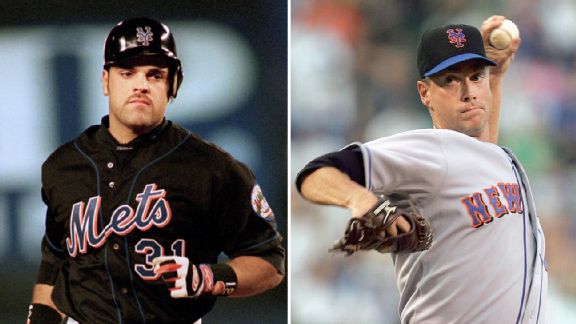 Getty Images
Mike Piazza fell short, while Tom Glavine is a new Hall of Famer.Mike Piazza improved his percentage in his second year on the ballot, but fell short of election to Cooperstown. Piazza appeared on 62.2 percent of ballots cast by eligible Baseball Writers' Association of America voters, an increase from 57.8 percent in his inaugural season of eligibility.
A player needs to appear on 75 percent of ballots cast in order to be elected.
Greg Maddux (97.2 percent), Tom Glavine (91.9) and Frank Thomas (83.7) all were elected.
Maddux failed to unseat Tom Seaver (98.8 percent in 1992) for the highest percentage received in gaining election.
"On behalf of everyone at the Mets, we congratulate Tom Glavine on his election to the Baseball Hall of Fame," Jeff Wilpon said. "We are proud that Tom won his 300th game as a Met and were fortunate to have him on our club. His excellence as a player is equaled by his excellence as a person."
Added Wilpon, on Piazza: "On behalf of the organization and our fans, Mike is a true Hall of Famer. We proudly display his plaque in the Mets Hall of Fame, and we're hopeful that he'll soon have one hanging in Cooperstown."
The remainder of the voting:
Craig Biggio (74.8 percent -- two votes shy among 571 votes cast)
Piazza 62.2
Jack Morris 61.5
Jeff Bagwell 54.3
Tim Raines 46.1
Roger Clemens 35.4
Barry Bonds 34.7
Lee Smith 29.9
Curt Schilling 29.2
Edgar Martinez 25.2
Alan Trammell 20.8
Mike Mussina 20.3
Jeff Kent 15.2
Fred McGriff 11.7
Mark McGwire 11.0
Larry Walker 10.2
Don Mattingly 8.2
Sammy Sosa 7.2
Rafael Palmeiro 4.4
Moises Alou 1.1
Hideo Nomo 1.1
Luis Gonzalez 0.9
Eric Gagne 0.4
J.T. Snow 0.4
Armando Benitez 0.2
Jacque Jones 0.2
Kenny Rogers 0.2
Those appearing on fewer than 5 percent of ballots cast fall are not longer eligible through the annual BBWAA voting process. Morris, too, falls off the ballot after appearing for 15 years. He will be eligible for selection by a veterans committee every three years, beginning for the 2016 class.