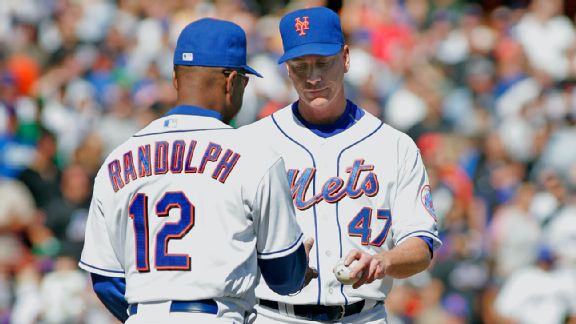 Anthony J. Causi/Icon SMI
Tom Glavine still gets reminded about his Sept. 30, 2007 outing against the Marlins, which ended his Mets career and the team's season. Willie Randolph retrieved the ball after Glavine recorded only one out.If it is any consolation to Mets fans, Tom Glavine still cannot escape getting reminded about his final start as a Met -- when the Amazin's were eliminated in Game No. 162 of the 2007 season by the Marlins. Glavine allowed seven runs while recording only one out in an eventual 8-1 loss that ended the season and his five-year Flushing stint.
"I still get people hating on me on Twitter and everywhere else over that game," Glavine told reporters Thursday in New York, a day after being elected to the Hall of Fame. "Like I've said to people, for what was an otherwise lot of fun for five years, that was not the way I wanted to end things here. I wish people could get past that a little bit and look at the other good things that I did, but I understand that there's still some anger from some people out there."
Of course, Glavine made things more complicated for himself postgame when he gave too intellectual an answer to a question about whether he was "devastated" with the Mets getting eliminated in the finale -- capping a swoon in which they squandered a seven-game lead with 17 games to play.
Glavine had said: "Devastation is for things in life that are much more important than this. I'm certainly disappointed."