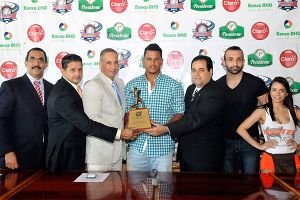 Courtesy of Rafael Taule
Juan Lagares is honored at the Hooters de Acrópolis in Santo Domingo on Wednesday after being voted by Dominican sports writers as the top 2013 rookie in MLB from the country.
Juan Lagares has been named the top Dominican rookie in MLB for the 2013 season, according to a panel of sports writers in his native country.
Lagares hit .242 with four homers, 34 RBIs and six steals in 421 plate appearances. He also had a franchise-rookie-record 15 outfield assists.
Lagares received 13 first-place votes and two second-place votes, garnering 146 points in total. Marcell Ozuna of the Miami Marlins placed second with seven second-place votes and six third-place voter, for a total of 118 points. Wily Peralta of the Milwaukee Brewers finished third with 94 points.
Lagares is coming off a solid winter-ball season in his native country with Aguilas. He hit .342 with one homer, 16 RBIs, five steals and seven walks in 114 regular-season at-bats in the Dominican Winter League. Only Francisco Peguero (.380) and Junior Lake (.343) had a higher average in the league among players with 50-plus regular-season at-bats.