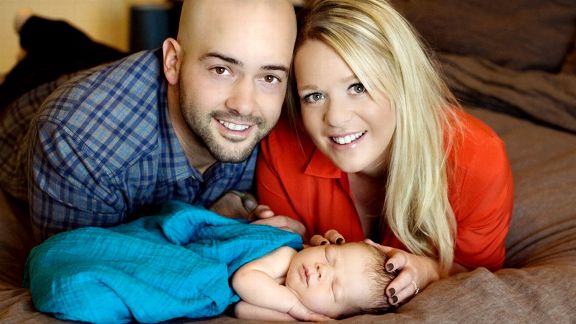 Courtesy of Dillon Gee
Dillon Gee and wife Kari Ann welcomed son Hudson in November.NEW YORK -- Dillon Gee became a father on Nov. 16. He became a multimillionaire two months later.
Those dual blessings proved quite a contrast from the previous offseason, when the New York Mets right-hander was rehabbing from emergency surgery to address a 96 percent blockage of an artery that supplies blood to his pitching arm -- an obstruction that had left doctors unable to find a pulse in the limb.
"Last year I told myself every day that I was going to be fine. And the doctors told me I was going to be fine," Gee says. "But there's always that little bit of uncertainty when you start playing catch and then you go into the season."
Now, the 27-year-old Gee -- who will receive a Thurman Munson Award on Tuesday night in Manhattan for his charitable work with the children of 9/11 victims -- again is being hailed as one of the game's top fifth starters by scouts.
Eligible for arbitration for the first time now that he has crossed three years of MLB service, Gee earned a raise from $527,375 in 2013 to $3.625 million for the upcoming season. He is under the Mets' control through the 2016 season.
His pay bump comes on the heels of wife Kari Ann giving birth to the couple's first child in November -- son Hudson, who is NOT named after the former Atlanta Braves pitcher, for the record. (The Mets seem to have a knack for picking rivals' names for their babies. Mike Pelfrey chose Chase for his son's name in 2009, although Pelfrey likewise suggested it was not for the Philadelphia Phillies second baseman.)
"I get the Tim Hudson thing a lot, but really it's just my wife came home one day and said, 'How about Hudson?'" Gee says. "At first I was kind of iffy on it, but it grew on me."
Gee, the son of a Fort Worth firefighter, downplays the $3 million raise as well as praise about being an elite backend starter. He notes he never has been counted on for much, having been a 21st-round draft pick in 2007 out of the University of Texas-Arlington.
"If somebody wants to say I'm the best fifth starter in baseball, then that's great," Gee says. "But if I listen to most of what people say out there, then I would not have much confidence. I've never really listened to that stuff, because it's always been pretty negative coming up throughout the minor leagues. I'm never good enough.
"I know myself. And I know what I'm capable of. I like to exceed expectations. I like to surprise people. I'm very confident in what I can do."
Jim Mone/Associated Press
Gee rebounded from a 2012 circulatory scare to finish last season with a 2.71 ERA over his final 22 starts.Gee stumbled to open last season, perhaps while shaking off rust from missing the second half of the previous year. Entering a May 30 game at Yankee Stadium, he had a 2-6 record and 6.34 ERA. With Zack Wheeler's major league debut looming, Jeremy Hefner or Gee appeared poised to soon get bounced from the rotation.
Gee responded by limiting the Yankees to one run on four hits while striking out 12 and walking none in an 88-pitch effort over 7 1/3 innings. Pedro Martinez had been the only other pitcher to strike out that many against the Yankees while walking none and allowing no more than four hits in the 111 years the Bombers called New York home. Martinez had a 17-strikeout one-hitter with the Boston Red Sox on Sept. 10, 1999.
From that point through the remainder of the season, Gee produced a 10-5 record and 2.71 ERA in 22 starts. His ERA for that span ranked fifth in the National League, trailing only Jose Fernandez (1.50), Clayton Kershaw (1.91), Zack Greinke (2.35) and Madison Bumgarner (2.57).
For the season, Gee finished one inning shy of reaching 200 innings for the first time in his career.
"I hate to blame it on being hurt and missing the last two months of the [2012] season, because I still had a full offseason to get myself ready," Gee says about the slow start. "Maybe just the way I went about getting myself ready wasn't right for me that year. I lifted a lot of heavy weights last offseason. I think I came into spring training a little tighter than I should have.
"It just took me a while to find my mechanics again, and find that feel, because I'm such a 'feel' guy," he continues, alluding to a fastball that has averaged 89.6 mph during his major league career. "I'm not going to go out there and blow things by guys. I rely on that feel of the baseball and the feel of my mechanics and good timing. I think it just took me too long to find that."
The rotation spot for Wheeler eventually opened in mid-June because Jonathon Niese landed on the disabled list with a partial tear of the rotator cuff in his left shoulder.
As for being in danger of getting bounced from the rotation before his surge that began in the Bronx, Gee says: "I knew it was a possibility. And the way I was pitching, it's tough to be mad about it. That's just the way the game is. If you're not going to perform, you shouldn't be there."
Gee had lost near-complete feeling in his right hand and doctors could not find a pulse in the arm the day after his final first-half start in 2012. He underwent surgery at Barnes-Jewish Hospital in St. Louis to patch a damaged artery in his pitching shoulder. Dr. Robert Thompson transplanted a vein from Gee's groin to enlarge the artery. Had he not treated the issue when he did, Gee could have suffered permanent muscle-tissue damage that may have jeopardized his career.
Early last season, Gee applied a prescribed nitroglycerin cream to his fingers before games in order to stimulate blood flow to the fingers. He soon abandoned that practice, though, because of marginal benefits and a concern.
"It kind of scared me because I lick my fingers a lot," Gee says. "I was like, 'I don't want to ingest this stuff.'"
The symptoms he had experienced as far back as 2010, when his right middle finger sporadically used to go numb, did linger somewhat last season, particularly early on in frigid weather, including in Denver.
"I would definitely lose sensation and get a little numb in those fingers," Gee says. "But I think it has continued to get better since the surgery. The doctor said that the rest of my life it should continue to get a little bit better, with the blood flow increasing in those capillaries in my hand."
Reflecting on what his right hand felt like immediately before the surgery, Gee says: "I could still move it and grab things. It just felt dead. No feeling at all.
"I never really got super scared," he continues. "I'm real good at taking situations that I'm dealt and trying to make the best out of them. Even though it was very scary, the first thing that comes to your mind is baseball. Well, the first thing that comes to your mind is your life, but I was quickly reassured it wasn't life-threatening. But then you start thinking about your career.
"You worked your entire life to get to where you are, and then it gets cut short that fast, it's very scary. But I quickly tried to change my mindset. I try to be as confident as I can and as positive as I can in all aspects of life."
Gee has been throwing this offseason at his old college with Oakland minor-league pitcher Nathan Long, a fellow Texas-Arlington product. Gee normally would be at the Mets' spring-training complex by now, well ahead of the official Feb. 15 report date. He instead plans to arrive Friday.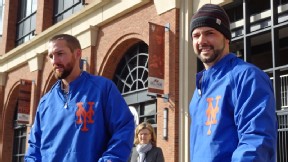 Adam Rubin
Bobby Parnell and Gee have been honored this offseason for their charitable activity.
His arrival has been delayed so he could swing by New York with Kari Ann and Hudson to accept a charitable award for his work with Tuesday's Children. Gee visits with the sons and daughters of 9/11 victims every Tuesday the Mets are at Citi Field during the season, except on the days he pitches. He also is active in making FDNY appearances.
Bobby Parnell and Gee, both of whom have fathers who are active in fire departments, also were recognized for their charitable work last month by the New York Chapter of the Baseball Writers' Association of America. Gee says the firehouse is similar to a baseball clubhouse because of the camaraderie and amount of time the firefighters spend together.
"Part of my speech was saying that one day I hope I feel like I deserve this award," Gee says. "It was tough to accept that award, because even though I try to do a lot, I know there are a lot people out there who do a lot more than I do. So it's tough to get accolades, but it's still an amazing honor to be up there. It almost pushes me to want to do more."
As for 2014, with his bigger bank account and family, Gee insists: "When I was on league minimum, to if I'm making $50 million, it's not going to matter. I'm out there competing with myself every day.
"It's definitely nice to feel a little security for the future. But, like I said, I'm out there trying to be the best pitcher I can every day no matter how much money I'm making."