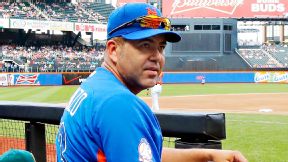 Jim McIsaac/Getty Images
Edgardo Alfonzo is expected to coach in the minors for the Mets this season.
Edgardo Alfonzo, who played eight seasons with the Mets, is expected to serve as a minor-league coach with the organization in 2014, a source tells ESPNNewYork.com.
Fonzie, 40, likely will work as a roving instructor. He officially rejoined the organization last season as an "ambassador," which included leading the World Team in the Futures Game at Citi Field.
He last played in the majors in 2006.
Alfonzo, an All-Star in 2000 with the Mets, when he hit .324 with 25 homers, lives in Queens.
His brother Edgar is a former manager of the Brooklyn Cyclones.