PORT ST. LUCIE, Fla. -- Bobby Parnell is about two weeks behind his typical schedule, but the New York Mets closer fully expects to be ready for Opening Day.
Parnell, 29, missed the final two months of last season and underwent surgery on Sept. 10 in California to repair a herniated disk in his neck.
He typically would be throwing off a mound now, but will wait about two weeks extra this year before doing so.
Parnell, one of the first arrivals at Mets camp, is tossing a baseball on flat ground at 120 feet without issue. That's the longest distance he typically throws before stepping on a mound.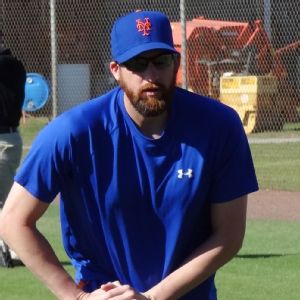 Adam Rubin
Bobby Parnell believes he will be ready Opening Day without issue.
He also has resumed lifting weights and running.
He started doing pitcher fielding drills late last week, including fielding comebackers while on the mound.
"That just entails reaching for baseballs and moving a little quicker than I have," said Parnell, who has only a tiny scar remaining on the front of his neck from the surgical procedure. "Everything is feeling great -- no pain with it or anything like that. So my confidence is getting better."
Still, until Parnell gets on a mound and begins airing out fastballs, even he will not know for sure whether he has fully recovered. Parnell's fastball average 95 mph last season. He has hit 102 mph during his career.
"I mean, I haven't done it yet. So obviously you want to know," Parnell said. "But, like I said, we're doing little things every day to get to that point. I've had no setbacks or pain or anything like that."
The Mets plan to have Parnell pitch in "a lot more" B games early in spring training rather than Grapefruit League games. That will allow him to stay back at the complex and work in a controlled setting with trainers on standby.
Since closers generally only throw one-inning stints during the regular season and therefore do not need to be stretched out for multiple innings like starting pitchers during spring training, there is no urgency for Parnell.
"Just taking it slower," Parnell said. "I'm still getting on there and doing the drills and stuff like that. I usually like to get off the mound pretty early anyway. So it'll just be pushed back a couple of weeks."
The Mets still would like to add a late-inning reliever with closing experience.
They offered a comparable amount to the two-year, $12 million deal Grant Balfour accepted with the Tampa Bay Rays. They also had dialogue with Fernando Rodney's agent before he signed with the Seattle Mariners.
The Mets did watch Joel Hanrahan throw Friday and are believed to be interested in Ryan Madson as well, although a team insider did not think the Mets dispatched a scout to watch Madson recently throw for teams.
A team source recently expressed hope of landing a back-end-type reliever on a minor-league deal. The Mets already have added Kyle Farnsworth on a minor-league contract.
Vic Black right now would appear the in-house safety net if Parnell had an issue arise.
Balfour, who actually has the same agent as Parnell, would have been a hedge more than a replacement closer for Parnell. He was prepared to work the eighth inning in New York.
Would one of the remaining free agents potentially displace Parnell in the ninth? Probably not, although Parnell said he has received no firm assurance he is the closer.
"I don't pay attention to it at all," he said. "It's baseball. That's front-office stuff. I just have to take care of my stuff."
Parnell converted 22 of 26 saves last season before the season-ending neck issue. Two of those four blown saves came courtesy of April misplays in the field -- when Collin Cowgill misread a fly ball in Miami and Ruben Tejada threw away a potential inning-ending double play in Denver.
Parnell said he benefited a year ago from an early vote of confidence from Terry Collins.
Early in spring training, before it was even clear Frank Francisco would miss the start of the season with an elbow issue, Collins told Parnell to prepare for the closer's role rather than auditioning multiple candidates.
"To know out of the gate that you're going to be the guy, to know your role, it helped a lot," Parnell said. "He showed a lot of confidence, and expressed that with me. To have the backing helped."