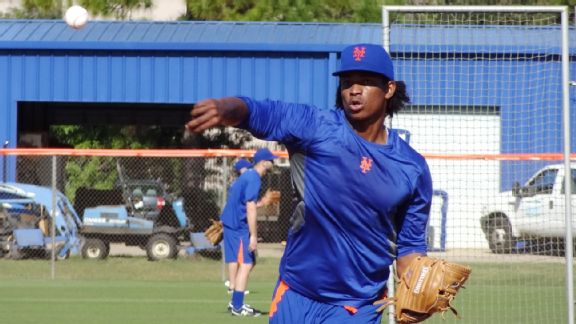 Adam Rubin
Jenrry Mejia tosses a baseball during Monday's voluntary workout in Port St. Lucie.PORT ST. LUCIE, Fla. -- Jenrry Mejia does not hesitate when asked about his preference between starting pitcher and reliever.
"You ask me that every year, and I always tell you starter," Mejia said with a laugh. "I like starter. Always."
Mejia, 24, apparently will have that opportunity in spring training.
He officially will compete with Daisuke Matsuzaka and John Lannan as well as prospects Rafael Montero and Jacob deGrom for the fifth-starter's job behind Jonathon Niese, Bartolo Colon, Zack Wheeler and Dillon Gee.
"The only thing I know is that's going to be a competition -- because I'm here, my arm feels good," Mejia said. "I'll be ready to be there. Whatever they want me to do, that's what I have to do. But I want to be in the fifth spot. They've got to let me know."
Mejia, at the organization's request, has been working out under Mets oversight since Jan. 5.
He came to Port St. Lucie shortly after New Year's for two weeks. He then returned to his native Dominican Republic to work for two weeks at the organization's complex in Boca Chica. Mejia returned to Florida on Feb. 2.
He already has thrown a pair of bullpen sessions, and is due to throw a third -- 25 or 30 pitches -- on Wednesday.
Mejia said he is having no ill effects from the season-ending surgery he underwent on Aug. 28 to remove a bone spur from his right elbow. That is generally a benign procedure. Mejia said he already was fine three weeks after surgery.
Last season, Mejia had been highly successful pitching at the big-league level for five starts before getting shut down when the elbow discomfort became overwhelming. He produced a 2.30 ERA while logging 27 1/3 innings -- beginning with a seven-scoreless-inning performance at Washington on July 26.
Mejia had opened last season on the DL with elbow discomfort before finally getting into a minor-league game with Class A St. Lucie on May 17. After two starts, he was shut down again because of an elbow flare-up and did not reenter minor-league games until June 29.
Mejia said doctors did not think there was any issue until relenting to a midseason MRI.
"I went to see the doctor," Mejia said. "He said, 'You don't have anything.' I said, 'Yeah, I have it.' He said, 'All right, let me take an MRI.' He said, 'Yes, you have it.'"
Mejia has said that he pitched last summer with the discomfort even though doctors thought the spur should be surgically removed once it was discovered. He eventually had the procedure when the discomfort became too great after the fifth major league start.
As for why he is so early this spring training, after having difficulty entering the country a year ago because his visa was randomly flagged for review, Mejia said: "Because they want me here."