PORT ST. LUCIE, Fla. -- Right-hander Jacob deGrom arrived in spring training last year with a broken ring finger on his glove hand, the result of being kicked by a calf while working at a neighbor's cattle ranch before reporting.
He eventually rose all the way from Class A St. Lucie, to Double-A Binghamton and then to Triple-A Las Vegas during the course of last season. And while he was bypassed for a September call-up, deGrom was added to the 40-man roster after the season, resulting in an automatic invite to this year's camp.
So while the odds are Daisuke Matsuzaka, John Lannan or Jenrry Mejia claims the fifth-starter role with the Mets, deGrom cannot be counted out entirely, given his unpredictable rise in such a short recent span.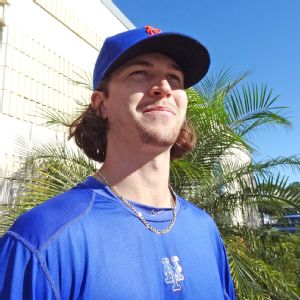 Adam Rubin
Jacob deGrom
The 25-year-old deGrom is a ninth-round pick out of Stetson in 2010. He primarily was a shortstop during his college career, before being exposed to pitching late -- the same storyline as Bobby Parnell at Charleston Southern.
DeGrom underwent Tommy John surgery on Oct. 10, 2010, shortly after signing with the Mets, and missed the entire next season.
"Just coming back from Tommy John, that was a successful 2012," deGrom said Monday. "And then when I started in St. Lucie [in 2013], I thought I'd probably end up in Binghamton to end the year. And then I got the chance to pitch in Vegas and pitched pretty well in the beginning. That helped me stay. And I was thankful for that opportunity."
The 6-foot-4 deGrom had been promoted to Triple-A to coincide with the trade of Collin McHugh and Zack Wheeler and Carlos Torres' call-ups to the majors. DeGrom ended up making 14 second-half starts for Las Vegas. He posted a 4-2 record, 4.52 ERA and had a 1.467 WHIP in 75 2/3 innings in the Pacific Coast League. (He also homered while going 4-for-16 at the plate.)
DeGrom's fastball sits at 91-94 mph. The sinker is complemented by a slider and a changeup.
"I just got an opportunity and made the best of it," deGrom said. "It could have been anybody, you know? But they gave me the opportunity to go up there and pitch and it worked out for me."
DeGrom did not participate with the 51s in their first-round playoff series because he was dealing with a right-knee issue. Doctors found cartilage buildup behind the knee cap. He received some anti-inflammatory shots this offseason and rehabbed.
His offseason was eventful mostly because he was engaged on Christmas Day to Stacey Harris, whom he met right before beginning college.
As for his relative lack of pitching experience, given he was a college shortstop and because he missed a year recovering from Tommy John, deGrom has been a quick study. He said he particularly benefited from working with then-Mets rehab coordinator Randy Niemann at the Mets' spring-training complex in 2011.
"I always played infield," deGrom said. "Going to the mound, I didn't really know what to expect. I was fortunate enough to get drafted, and I learned a lot in those first couple of years. I had a great coaching staff that really taught me a lot. Even in rehab, it really helped getting on a throwing program. Before, in college, I'd just pitch one day and then I'd play the field the next. I was never really on a strict program. Doing all that I think really helped teach me how to pitch."