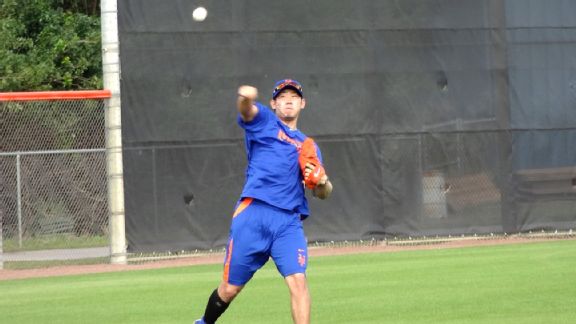 Adam Rubin
Daisuke Matsuzaka joined teammates at Mets camp Tuesday, four days ahead of the official report date.PORT ST. LUCIE, Fla. -- Daisuke Matsuzaka's travel for his first U.S. press conference of spring training came at far less expense than countryman Masahiro Tanaka's reported $195,000 Japan Airlines charter flight on a Boeing 787 Dreamliner to arrive in New York.
"You really want to know?" Matsuzaka playfully asked through interpreter Jeff Cutler on Tuesday, an hour before Tanaka's press conference began at Yankee Stadium.
Matsuzaka flew commercially from Tokyo to Boston, then drove with Cutler down the East Coast to the Mets' complex in Port St. Lucie.
"Just one stop," Dice-K said. "After doing it once, I think next time I'll fly down here."
It was just seven years ago that Matsuzaka was arriving in Boston for his own introduction to Major League Baseball, having received a six-year, $52 million contract on top of the $51 million posting bid the Red Sox paid his Japanese club.
Now, the 33-year-old Dice-K is in Mets camp on a minor-league deal, competing with John Lannan, Jenrry Mejia and prospects such as Rafael Montero and Jacob deGrom for the fifth-starter's role.
After opting out of a minor-league contract with the Cleveland Indians last summer, Matsuzaka made seven Mets starts to close the year. He had a 10.95 ERA in his first three starts, then a 1.37 ERA in the next four.
"I thought I would have to compete no matter what organization I went to, so that was a nonfactor for me," Matsuzaka said. "And if I didn't have the confidence to win a spot on a major-league rotation, I would have just decided to go back to Japan. So I have the confidence of winning a spot, but that's something I have to prove in the next two months.
"I decided from the very beginning of the offseason that if the Mets made me an offer that I would take it. It was a short period of time, but from the very beginning I was able to communicate well with Dan [Warthen] and Terry [Collins] and the other coaches. So I felt really comfortable and thought this was a place I wanted to be."
Both Matsuzaka and Lannan are on minor-league contracts with opt-out dates in June if they are not promoted by then.
Matsuzaka is coming into camp prepared. On Tuesday, his first day in Mets camp since arriving in Florida, he threw a 55-pitch session off a mound -- his sixth bullpen session already as he gears up for his season.
Matsuzaka played with Tanaka on Japan's World Baseball Classic team, but said they otherwise have not had contact.
"It is a big deal right now," Matsuzaka said about Tanaka's U.S. arrival. "It's something that everyone is talking about. And it may cause him stress, among other things, just coming over -- a new environment and everything.
"At the beginning he's going to have to spend a lot of time adjusting and adapting to life over here and baseball over here. But as long as he's able to deal with that and overcome those things, I think he is a pitcher who has talent. So I think he can have success over here."
What are the biggest challenges? Matsuzaka suggested it is the off-the-field things -- different cuisine, language, customs -- as opposed to on-the-field issues, even though the baseballs are different and Japanese pitchers customarily only pitch once a week back home.
"Baseball wasn't too stressful or too difficult to adjust to," he said. "It was more of the things that happened in daily life -- the American lifestyle and the cultural aspect of it, just things that were different. It took a little while to get used to and understand."
One curiosity with the 25-year-old Tanaka will be how many bullets he has left in the tank later in his six-year deal with the Yankees, given the ultra-high pitch counts he has logged, especially back in high school. The same curiosity existed about Matsuzaka, who once threw 398 pitches over a two-day span in the Koshien tournament when he was 17 years old.
"I don't believe that's necessarily true," Matsuzaka said about the high pitch counts shortening the pitchers' careers. "I think some people throw lots and lots and never get injured and others don't throw at all and get injured. I don't think there's a direct relationship. I think there are a lot of other factors. I don't think it's necessarily 100 percent true."
Asked how big a deal it would be if Tanaka and Matsuzaka opposed each other during this year's Subway Series, Matsuzaka said it is premature to consider until he actually makes the roster.
"I don't want to get too ahead of myself," Matsuzaka said. "I'm not at that position yet. So I'd like to first focus on what I can do now and be on the Opening Day roster. And then from there on I hope I can start thinking of those things."