PORT ST. LUCIE, Fla. -- Eric Young Jr. is not shy about his ambition. He wants to be the leadoff hitter.
"That's what I was as a little kid. That's what I've been my whole life is a leadoff hitter," Young said Tuesday, the day he arrived at Mets camp.
Young, acquired from the Colorado Rockies for right-hander Collin McHugh last June 18 after getting squeezed off the NL West club's roster, hit a combined .249 between the two teams last season.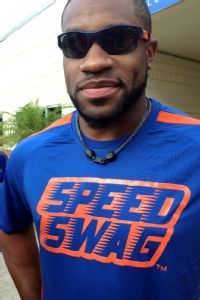 Adam Rubin
Eric Young Jr., who won the NL stolen-base crown last season with 46, arrived at Mets camp on Tuesday.He knows he needs to lift his on-base percentage in order to emerge as the leadoff hitter, even though Terry Collins already has labeled him the preference to bat atop the order.
Last season, among the 10 NL batters with at least 325 plate appearances in the leadoff spot, Young ranked dead last in OBP atop the order at .318.
Shin-Soo Choo, the leader, had a .432 on-base percentage for the Cincinnati Reds as a leadoff hitter. Also better: Matt Carpenter (.398), former Rockies teammate Dexter Fowler (.378), Norichika Aoki (.367), Carl Crawford (.353), Everth Cabrera (.340), Starling Marte (.336), Denard Span (.322) and Gerardo Parra (.321).
"I definitely want to be more consistent in that leadoff spot and getting on base," Young said. "Adding the big boppers behind us in the lineup makes it pretty easy for me. I want to be on the bases so those guys can get those RBI chances."
There is no natural alternative to Young as the leadoff hitter, so the challenge will be finding a way to get him in the lineup. The most likely scenario is for Young's at-bats to come at the expense of Juan Lagares.
Sandy Alderson reiterated Tuesday that Lagares will be the center fielder for the Grapefruit League opener Feb. 28 against the Washington Nationals. But Alderson also stated that offense will drive the outfield positions. And so it is entirely possible the outfield configuration on Opening Day is Eric Young Jr. in left field, Chris Young in center field and Curtis Granderson in right field.
EY Jr. said he practiced at second base this offseason in addition to shagging fly balls.
"If it's left field, center field, right field, second base, it doesn't matter to me -- as long as I'm out there in the field having fun," he said. "I worked on everything. I went in the infield and took ground balls, turned double plays, and in the outfield shagged fly balls. I wanted to make sure I was prepared for anything coming into camp. That way, I wasn't caught off-guard."
He added that he has been speaking this offseason with the Mets' two high-profile outfield imports.
"I know Curtis through the Players' Association activities," he said. "And I know Chris from all the years the Diamondbacks and Rockies shared a [spring-training] complex and being close to each other. So we got to hang out with each other in our earlier years. So it's not unknown territory with both guys. I'm excited to get suited up with them in the same uniform."
As for being held in high regard by the Mets after essentially getting dumped by the Rockies, he added: "I think everything happens for a reason. Just from not getting the opportunity over in Colorado, it opened up the opportunity to come here. It's always good to be wanted, I think, in any aspect of life -- not just baseball, but in relationships, just in general as people. To be wanted is tremendous.
"You want to go out there and give those who want you everything you have."