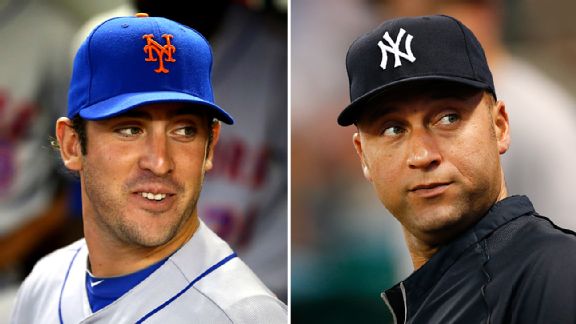 USA Today Sports, AP Photo
Matt Harvey is a fan of Derek Jeter, despite being on the opposite end of the Subway Series.PORT ST. LUCIE, Fla. -- Matt Harvey grew up a Yankees fan in Connecticut.
His reaction to Derek Jeter announcing he intends to retire at the end of the season?
"When you grew up watching baseball, that was the guy that you watched and wanted to be like," Harvey told ESPNNewYork.com by telephone on Wednesday. "The amount of respect that he has in the game and in New York, it's going to be sad to see him leave. But he's had such an amazing career. Obviously he's ready to move on with whatever he is interested in, but as a fan of New York sports, it's going to be a sad thing to see him leave."
An injured Jeter missed last year's Subway Series. And Harvey will miss this season recovering from Tommy John surgery. So Harvey likely never will have had the chance to face him.
"Obviously it's always fun facing the best," Harvey said. "It's an honor being able to play in the same city as him. Regardless of facing him or not, I've had the chance to talk to him a little bit. That's the biggest honor for me -- just being able to call him a friend."