PORT ST. LUCIE, Fla. -- Right-hander Jeff Walters notched 38 saves for Binghamton last season, more than any B-Met had ever produced in a season -- or career -- with the Double-A club.
Now, Walters has been added to the 40-man roster and is in big-league camp. And while the signings of Jose Valverde and Kyle Farnsworth to minor-league deals hamper his chances, Sandy Alderson has suggested a prospect such as Walters will be a candidate to break camp with the Mets in the bullpen.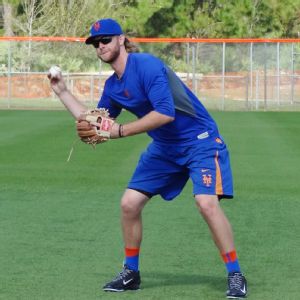 Adam Rubin
Jeff Walters works on a fielding drill Wednesday in Port St. Lucie.
"I hope so," Walters said Wednesday about whether he feels he has a legitimate chance of making the team. "I feel that's why I'm here. I feel like I'm going to go out and do my best, and as long as I get some eyes on me, that's all I can hope for. I can't control any of that stuff. You can just go out and throw strikes, pound the zone, get outs and show them that I can get consistent outs."
Walters' fastball sits at 94-95 mph. He registered 97 mph a couple of times last season, but generally tops out with an occasional 96 mph. He also sports a slider in the 85- to 86-mph range and a changeup at 81 or 8 mph.
He originally served as a starting pitcher in the minors, including making 14 starts for Brooklyn in 2011. He shifted to the bullpen with Savannah and St. Lucie in 2012 before emerging as Binghamton's closer.
He had a 2.09 ERA and 1.107 WHIP with the B-Mets in the regular season before struggling in his lone playoff appearance. Walters allowed five straight hits for a walk-off loss at Trenton.
Walters, 26, was drafted out of the University of Georgia in the seventh round in 2010. He had closed as a sophomore at a Clearwater, Fla., junior college and also emerged as a closer late in his junior year in the Southeastern Conference.
"It was great to get the opportunity to be in that situation," Walters said about setting the Binghamton saves record, which previously had been held by Tim Lavigne, who had 36 from 2002 to 2008 with the B-Mets. "Our team had a really good year and I got to capitalize on a lot of those situations. It was awesome.
"It was cool to learn how to pitch in that situation. If it may be what I do down the line, that's great. If it's not, it was a great learning experience."