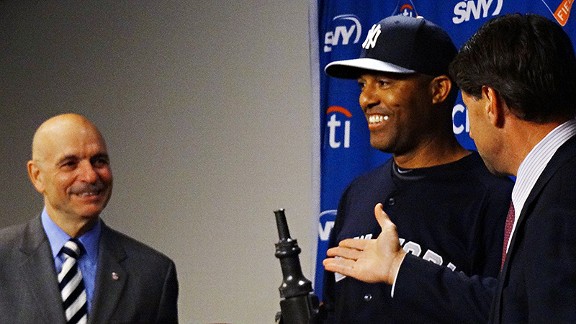 Adam Rubin
Fire commissioner Salvatore Cassano and Jeff Wilpon presented Mariano Rivera with gifts before a Subway Series game last May.
PORT ST. LUCIE, Fla.
FIRST PITCH: Mariano Rivera threw out the ceremonial first pitch at Citi Field and was presented with fire-department-themed gifts, including a hose nozzle, by the Mets and fire commissioner Salvatore Cassano.
Chipper Jones received three-dimensional artwork depicting him batting in Queens.
So it's time to ask: With Derek Jeter announcing this is his final season before retiring, what should the Mets present him when the Subway Series comes to Citi Field on May 14 and 15?
Here's one suggestion, via @JonDianora on Twitter, who obviously reads the gossip pages: "A to-go bag with a few signed baseballs from David Wright and Mets jersey and a letter saying thank you for your services."
On the field in Port St. Lucie, the Mets continue voluntary workouts Thursday. Pitchers and catchers officially report Saturday, with physicals Sunday and the first formal workout Monday.
Thursday's news reports: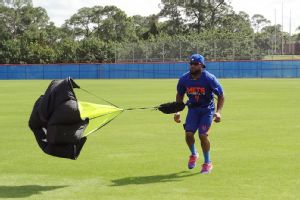 Adam Rubin
Eric Young Jr does extra work, running with the resistance of a parachute, Wednesday in Port St. Lucie.
• The Mets added 35-year-old Jose Valverde on a minor-league contract Wednesday. He joins Kyle Farnsworth as veterans in camp with closing experience who are trying to resurrect their careers in the bullpen. "We were looking for a veteran presence in the bullpen, he does have some experience closing, but this is not a move to displace Bobby Parnell," Sandy Alderson told Kristie Ackert in the Daily News about Valverde. "We signed him to a minor-league contract, and we'll see how he throws in spring training." Read more in the Post, Times, Journal, Newsday, Star-Ledger and MLB.com.
• With Jeter announcing his intention to retire at the end of the season, Wright remembered playing with him in the World Baseball Classic and Matt Harvey spoke about his respect for Jeter, too. Jeter, by the way, has a .368 average with 13 homers, 43 RBIs and 19 steals in 84 career games against the Mets. Read more in the Daily News.
• Lucas Duda discussed his eight weeks at fitness camp in Michigan, his friendship with Ike Davis and his receptiveness to playing outfield upon arriving at camp Wednesday. Will Duda be the first baseman? A backup who dabbles in the outfield? Or at Triple-A Las Vegas? That is to be determined. Read more in the Post and Newsday.
• Sirius/XM's Casey Stern is expected to emerge as the pregame and postgame host for WOR's Mets radio broadcasts. Howie Rose and Josh Lewin will soon be announced as the in-game team, continuing their work together, as they did at WFAN.
• Fifth-starter candidate John Lannan says he is fully recovered from the knee surgery he underwent last August. Lannan, originally from Long Beach on Long Island, arrived at camp Wednesday.
• From the bloggers … John Delcos at Mets Report analyzes the bullpen after the Valverde signing.
BIRTHDAYS: Former Mets catcher Mike Nickeas, who departed with R.A. Dickey and Josh Thole in the December 2012 trade with the Toronto Blue Jays, turns 31.
TWEET OF THE DAY:
@sugarfreeCV tried to tell you

— Zack Wheeler (@Wheelerpro45) February 12, 2014
YOU'RE UP: Are Jose Valverde and Kyle Farnsworth enough to make you feel OK about the bullpen?