PORT ST. LUCIE, Fla. -- David Wright is now 31 years old. And the captain acknowledged he is growing impatient, given the Mets have only made one playoff appearance during his first 10 seasons in the majors.
"I feel like I blinked and I'm 10 years into a major league career," Wright said Thursday, before a voluntary workout at the team's complex. "Obviously I'd like to win before I get to the point where I just feel like I can't do it at a high level anymore.
"Of course you feel that urgency when you feel like just yesterday you were 21 years old. All of a sudden now you're 31. I still feel like I've got a lot in the tank, but at the same time I know how fast these 10 years went by. I hope these next seven for me doesn't go by nearly as fast."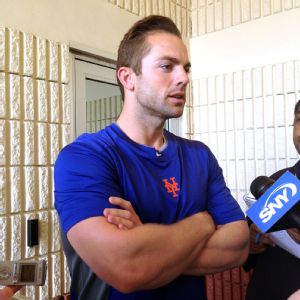 Adam Rubin
David Wright addressed the media Thursday. On his new hairstyle, he said: "I got good flow." Wright declined to say whether he had recruited Stephen Drew, adding: "I can't give away our game plan. We've signed some of the guys I've talked to. We haven't signed some of the guys that I've talked to. I'm not sure what my batting average would be in that department."
Wright nonetheless refused to condemn the Mets' payroll, which Sandy Alderson estimated is at $87 million of $88 million entering the season.
The third baseman reflected on the conversation he had with Alderson before agreeing to an eight-year contract 14 months ago.
"I'll tell you this: When Sandy and I sat down, there was a commitment that, hey, we we're going to get better and we were going to spend money," Wright said. "I didn't say, 'Sandy, are we going to get back to 2006, 2007?' when we were spending $140 million on our payroll. You can't guarantee, 'Hey, we're going to spend $150 million on players,' because you just don't know how things are going to shake out. I think that the commitment to make the team better was there, the commitment to spend money.
"We had a lot of money come off the books. We spent quite a bit of money. And a lot of that gets overshadowed by the money that the Yankees spent this offseason.
"And I understand it's a big market and fans want to see instant gratification -- sign these players and become a much better team overnight. But, as I said before, we had a lot of holes to fill.
"It probably was somewhat unrealistic to think all of those holes were going to be filled in one offseason by free agents. Some of these holes are going to have to be filled by guys who are here, whether it's the minor leagues or guys being put into a situation where they're given a second chance, per se. We finished pretty poorly the last three years. And there's only so much you can do in one offseason free-agent-wise, trade-wise, to plug those holes.
Wright continued: "It's not an overnight fix where you go from a fourth-place team. Of course, I think that we can go out there and compete and win baseball games. But you can't sit and rebuild an entire culture or you can't rebuild an entire team in one offseason. It's going to be up to some of the guys who have been here to do their part as well. When you don't have success for the number of years that we haven't had success, you can't just get rid of the whole team and go buy a whole new team. It just doesn't work that way."
Told that more spending more could make the team better, though, Wright countered: "Yeah, but if you spend the more money in the one offseason, you kind of get into the situation where we were a couple of years ago. That doesn't help you all that much, either, if it doesn't work out. So I think you obviously spend money on the right players, but you also give yourself the ability if you need to make a trade or add payroll midway through the year or next year.
"The flip side of that is you go out there and you go on this big spending spree, unless you're the Yankees or the Dodgers right now, that kind of hamstrings you a little bit down the road. And that's kind of the situation we got ourselves into earlier.
"I don't know what the right or wrong way is as far as an accounting standpoint with the payroll. Like I said, there's a side of me that understands you've got to have some of this payroll flexibility and be able to add. I'm confident, and I'd like to hope -- and I don't know this for a fact -- that we would be able to add payroll. I think that's important, because if we get to the point where we have a specific need come July and the only way to do it is with a trade for a guy making money, I'd like to think we're going to be able to do that.
"The fan side of me wants them to go out there and spend hundreds of millions of dollars on every player we can possibly get to make our team better now. But there's a part of me that says I want to have sustained success once we do have that success. The only way to do that is when you have offseasons where you have money coming off the books at the same time where you need to add money."
As for the Mets' lack of winning, Wright made reference to Derek Jeter.
"Impatient is an understatement," Wright said about the Mets' five straight losing seasons. "… Obviously, I think, it goes without saying that I'm envious, jealous of what he has accomplished in his career -- the winning. Not even so much what he has accomplished numbers-wise, but what he has been able to accomplish with that team as a leader."