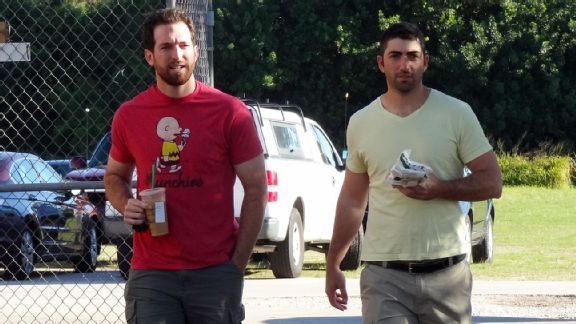 Adam Rubin
Ike Davis arrives at Friday's voluntary workout with Josh Satin.PORT ST. LUCIE, Fla. -- When Ike Davis left the visitors' clubhouse at Turner Field in early September to head home for the offseason after straining his right oblique, he said goodbyes as if his Mets tenure were over. But Davis, despite the Mets' public shopping of him this winter, remains a Met … at least for now.
And he acknowledged Friday he is surprised.
"The articles would say I wasn't going to be here, so a little bit of shock I didn't get traded," Davis said. "But I'm happy I didn't. Just because it seemed like we were pretty adamant about going somewhere, but obviously they had to make the right deal for them, and no one offered them what they thought enough, so I'm back.
"You know, it's all hearsay until something happens anyway. Obviously, just knowing that you're not going to play with your guys again, the friends that you made, it's tough. But I never was once off the team. So it's kind of like: article every day, except that there was no trade ever.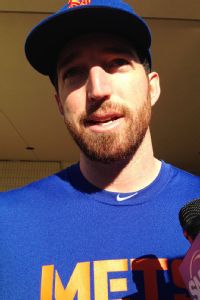 Adam Rubin
Davis
"It's not a big deal. I wanted to be back. I'm back. So I'm happy about it."
As for his ex-Yankee father's Jan. 21 comments that the Mets "screwed up" being so public about wanting to trade the first baseman, Davis said: "I think that he probably is a dad. And he's played baseball. And he's a fan. I would never have said it. My dad has his own opinions. And he's a pretty smart guy. I'm not really mad he did. He shouldn't be asked those questions anyway. … He's entitled to his own opinion. I haven't had anyone yell at me about it yet."
Davis maintained he did not personally have an issue with the public nature of the trade discussions, which included Milwaukee Brewers GM Doug Melvin openly acknowledging talks with the Mets.
"It's not that big of a deal, because that's baseball," Davis said. "Getting traded is part of the game."
Terry Collins has indicated he wants to get Davis 90 to 100 at-bats during spring training, roughly double last year's total, in order to guard against Davis having another slow start. Davis was hitting .161 when he was demoted in June last season. In 2012, he was hitting as low as .158 at the same point in the season and needed David Wright and other teammates intervening to stave off a demotion.
Davis said the extra at-bats will not entirely come in Grapefruit League games, though. He might instead get eight at-bats in a day on the minor-league side.
Davis and Collins are due to meet soon, although forgetfulness by Davis caused him to miss his first appointment with his manager.
"I kind of blew that one, because he told me early in the day," Davis said. "It was like six hours later and I just went home and forgot about it. So that was my fault. But I'm sure we'll talk about it soon."
As for at the plate, Davis feels like he finally has found a mostly undetected glitch in his swing.
"I started hitting a lot earlier this year. I started hitting in like November instead of January," Davis said. "Hopefully that will allow me to be a little farther advanced.
"Who knows? Not changing my swings 65 times might help," the first baseman dryly continued, referring to his penchant for constant tinkering amid struggles.
"I looked at a lot of film and there were some things that I saw that I wanted to change. … There was one little thing that I kept doing wrong that no one really could see, or didn't come out right, or wasn't said in a way that I could understand it.
"You guys aren't going to understand it, but my back leg, instead of going down, was coming up. It was causing my shoulder and my hands to drop and stuff like that. So I'm working on that to keep my back leg from coming up."
Technically, Davis and Lucas Duda are in a competition for the first-base job. Still, the most likely scenario -- assuming Davis is not traded before Opening Day -- would seem to be Davis being the first baseman and Duda a lefty bat for the bench, part-time outfielder and DH when the Mets play in Anaheim in mid-April.
"It's always a competition," Davis said. "It's been a competition since we were drafted. It's been a competition every single time you step on the field. It's not like we can control anything. You've just got to go play and see what happens. I love Duda. He likes me. It's just whatever, you know? You've just got to go play."
As for his confidence level about whether he will remain a Met on Opening Day, Davis said: "Once again, that's always up in the air. Nothing has changed from the spring training I got here until now. You don't know you're going to be on the starting [roster]. You don't know you're going to be a starter. You don't know where you're going to be. You just have to go out and play and see where they put you."