PORT ST. LUCIE, Fla. -- Terry Collins is "leaning toward" starting Jonathon Niese on Opening Day against the Washington Nationals on March 31 at Citi Field, likely opposite Stephen Strasburg. It would mark Niese's second straight opening assignment. The southpaw allowed two runs in 6 2/3 innings against the San Diego Padres in an 11-2 win last season.
Unless John Lannan makes the rotation, Niese may be the only southpaw anyway, so trying to slot him between particular right-handers would not matter.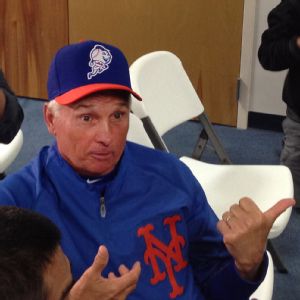 Adam Rubin
Terry Collins casually chats with reporters before Friday's press conference.
Collins said the remainder of the first-series assignments likely would be based on who best matches up against Washington.
Here are other notes from Collins' first spring-training press conference:
• Collins left no doubt his preference is for Eric Young Jr. to be his leadoff hitter. The manager said the alternatives may be Ruben Tejada and Chris Young, but those were far less preferable. TC nonetheless added that EY Jr. needs to improve his on-base percentage.
The question then becomes: How does EY Jr. get into the lineup? Most likely, that comes at the expense of Juan Lagares, since Collins reiterated Friday that Chris Young will be an everyday outfielder at the outset despite his career struggles against right-handed pitching. Collins said there was a "scenario" in which EY Jr. could play second base and Daniel Murphy would slide to first base, but that would require flops or injuries from Ike Davis and Lucas Duda in all likelihood.
• The bulk of Duda's at-bats will come at first base during spring training, but Duda will in fact get some outfield exposure. Collins said he has scheduled "B" spring-training games in part to ensure Davis and Duda each get enough at-bats while manning first base. The manager added that he regardless likes Josh Satin as a righty-hitting complement.
• Wilmer Flores will get some work at shortstop during spring training. The Mets had abandoned using Flores at that position after his 2011 season with Class A St. Lucie. Flores worked on his agility while spending part of his winter at a Plymouth, Mich., performance training center.

Listen to the complete news conference:

• Collins is not ready to anoint Tejada as his everyday shortstop, even though a viable alternative really does not seem to exist. TC mentioned Omar Quintanilla as the competition. Then again, Collins named New Jersey native Anthony Seratelli -- not Quintanilla -- as the most viable backup middle infielder at this point if Tejada is the starter. So Q's viability to unseat Tejada would seem dubious.
• Bobby Parnell is the closer -- without competition -- even with Jose Valverde and Kyle Farnsworth in camp.
• While Matt Harvey has indicated he would like to toss a baseball for the first time on Feb. 22, on the four-month anniversary of his Tommy John surgery, Collins said the medical staff would have to sign off before that proceeds. Collins said Harvey would probably only be tossing a baseball 10 or 15 feet anyway.
Will Harvey appear in the majors this season? Collins isn't sure, but vowed the ace will not be rushed.
"That guy will not come back early," Collins said.
• David Wright, Murphy and Curtis Granderson will get only limited early Grapefruit League at-bats. The Mets are trying to guard against more of the oblique-type injuries from early overexertion that have beset their recent camps.
• Collins said one project this spring training will be getting the 40-year-old Bartolo Colon experience bunting and otherwise batting given he has been in the American League since played for the Montreal Expos in 2002. Colon is 1-for-29 with one RBI, 16 strikeouts and three sacrifice bunts over the past 11 seasons as an AL pitcher.