PORT ST. LUCIE, Fla. -- Jose Valverde has been a closer for a long time.
"Not too long," he playfully added. "Only 11 years."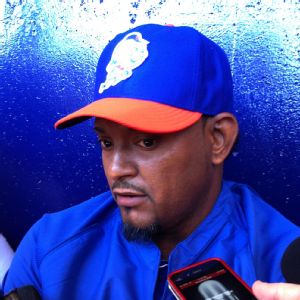 Adam Rubin
Jose Valverde addresses the media Sunday at Mets camp.
So how will Valverde adjust to a support role for Bobby Parnell, assuming the incumbent closer is fully recovered from herniated disk surgery on Opening Day?
"You know what? I'm here because I want to support the team," Valverde said Sunday. "If one of the guys is the closer, it's fine for me. I want to do my job and support the young kids."
Valverde, 35, has played for the Arizona Diamondbacks, Houston Astros and Detroit Tigers during his career, so he suggested it was no great adjustment switching to the Mets. In fact, he said it long had been a desire to play for the same organization that once employed Mike Piazza and Pedro Martinez. He suggested he came close to signing with the Mets last year before finally agreeing to a minor-league deal to remain with Detroit.
"So close. It was pretty close," he said. "2012, I didn't have a bad year -- 35 saves in 40 chances. ... Scott Boras told me go to Detroit. I said I would, but always I wanted to play here."
Valverde had a 5.59 ERA in 20 appearances last season for the Tigers and ultimately was released from Triple-A Toledo on Aug. 7. His fastball velocity has diminished from an average of 95.8 mph in 2009 with Houston to 92.8 mph last season.
"Last year? I don't remember last year," Valverde said, choosing to put 2013 in the past. "This year? You tell me this year, I can tell you right now. I worked with my trainer in the Dominican on my sinker. You guys know, when I saved 49 games (in 49 chances in 2011), my sinker I used to throw with movement."
As for playing in Queens, Valverde joked: "New York is awesome. That way I can go shopping every morning."