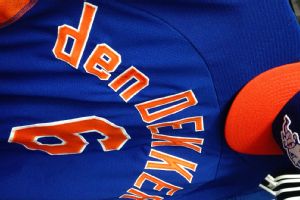 Adam Rubin
Matt den Dekker's uniform now reads: "den DEKKER."
PORT ST. LUCIE, Fla. -- The Mets would set an MLB record this season if three players whose surnames beginning with a lower-case "D" simultaneously end up on the roster.
And that could be the case at some point, with Travis d'Arnaud, Matt den Dekker and Jacob deGrom in camp.
The Mets already have matched the MLB record with d'Arnaud and den Dekker active last season. According to research by ESPN's Doug Kern, that matched the 1988 and '89 Kansas City Royals, who carried first baseman Luis de los Santos and pitcher Jose de Jesus for two Septembers.
Meanwhile, there's a new style on the Mets uniforms for those lower-case letters, with den Dekker's now reading: "den DEKKER" as opposed to the upside "P" of last spring training or the all caps later.