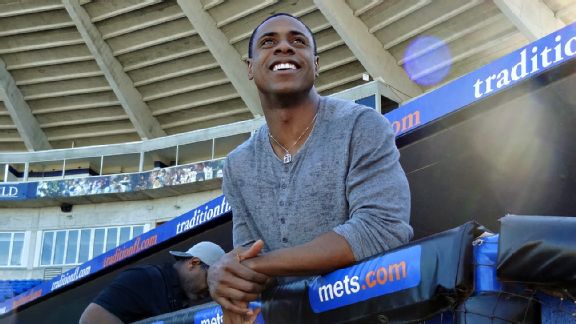 Adam Rubin
Curtis Granderson surveys Tradition Field on Sunday afternoon.PORT ST. LUCIE, Fla. -- Curtis Granderson created a mild stir upon signing a four-year, $60 million deal during the winter meetings in December by saying real New Yorkers are Mets fans.
Sunday, upon arriving at Mets camp, Granderson said he meant no malice.
"It definitely wasn't a shot by any means to anybody," Granderson said. "The organization, from top to bottom, including the fans, have been absolutely amazing for me and my foundation over the four years I had with the New York Yankees. It's just something interesting I heard over time being throughout the city of New York. I felt like saying it. It definitely wasn't anything that was meant in a negative way. So I apologize to anybody who took it the wrong way by any means. It definitely wasn't meant for that.
#0 OF
New York Mets
2013 STATS
GM

61

HR7

RBI15

R31

OBP.317

AVG

.229
"I highly look forward to continuing to communicate with Yankees fans, baseball fans, Tigers fans, Mets fans, as my career continues to go on.
"That's one of the best organizations to have been with and a great city to be a part of," Granderson continued regarding the Yankees, "and now I get a chance to go to the other side of things and still remain in New York, still get to do some great things with my foundation, get a chance to see another fan base, get a chance to see just as many people with 'NY' orange tattoos as they used to have 'NY' pinstriped tattoos."
Granderson surveyed Tradition Field from the home dugout Sunday afternoon and could not recall the last time he had visited the Mets' spring training complex.
"I was trying to remember," said Granderson, while fighting a cough and sniffle. "I think the last time I was here was maybe '07 or '08 [during Grapefruit League play with the Tigers]. I played in the Florida State League here in 2003, and that was the last time I was here for a consistent period of time -- three games. But it's been a while. And as I'm coming in, I'm trying to remember certain things, and a lot of stuff is very foreign to me."
As for the outfield contingent, which also includes Chris Young, Eric Young Jr. and Juan Lagares, Granderson said: "It's awesome. You've got youth. You've got experience. You have energy. And you have athleticism. That's the main thing that you have to have when you're out there in an outfield. There are only three of you out there to try to make it as small as you can is the key. So no matter what the combination happens to be -- who's in center, who's in left, who's in right -- I think it's going to be fun for us all out there.
"I've talked to EY and I've talked to CY quite a bit this offseason. It's cool that we've already been communicating with each other even though we haven't been on the field."
Granderson reiterated that Sandy Alderson reaching out early in the offseason and David Wright's personal recruiting were key elements in convincing him to come to the Mets -- aside, of course, from the $60 million offer.
After producing a combined 84 homers in 2011 and '12 with the Yankees, Granderson hit only .229 with seven homers and 15 RBIs in 214 at-bats last season while dealing with a broken forearm and pinkie injury. His production should be affected by the spacious dimensions of Citi Field compared with Yankee Stadium. Granderson is due to hit cleanup, behind Wright.
"It's going to be interesting," Granderson said. "I've never been a guy who has wrote down my stats and said, 'This is what I want to do this upcoming season.' But I do write all my goals down. And a lot of the different things are going to be continuing to get my work in the cage, understanding a new organization with a new philosophy, continuing to have fun first and foremost, being ready to roll every day -- which has always been there, since Day 1 -- and looking at different ratios and situations that I can put myself in to succeed as best as possible.
"The best thing is: It's a big ballpark. And as long as you touch some grass, you get a chance to use the feet and run for a little bit. That's what I'm all about -- getting on base in any form or fashion, no matter where I happen to bat in the lineup."
Mets fans recall Mike Cameron, still with a center fielder's mentality, colliding with Carlos Beltran in San Diego in 2005. How will Granderson, a natural center fielder, adjust to the corner? And how will they fare if there are three center fielders out there, with Chris Young and Juan Lagares, too?
"I have been out there before with other center fielders -- Brett Gardner to name one, Nook Logan to name another one," said Granderson, who has started a combined 23 career MLB games between left field and right field. "... This won't be the first time I've done it. The big thing is as long as there's communication, both from the outfielders and also the coaching staff, then everybody should be excited and ready to roll no matter what it is. All the guys that we've mentioned have played all three of them. So if we've got to move around of flip-flop or even flip during an inning, I think it'll be fun."