PORT ST. LUCIE, Fla.
FIRST PITCH: Chief operating officer Jeff Wilpon did a Q&A with MLB.com as pitchers and catchers are set for their first official workout Monday. Here's a sampling of the responses …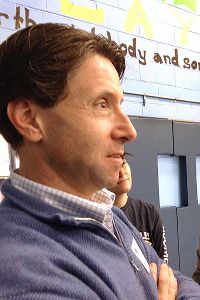 Adam Rubin
Jeff Wilpon addressed some hot-button Mets topics.
On Sandy Alderson, Wilpon said: "I think he's put the plan in place, and we're ready to see the fruits of that labor now."
On not signing Stephen Drew or another additional higher-caliber free agent: "If those one or two things were there, we would have expanded the budget for them. Just to get a guy because the fans think that's the right thing to do, that's not part of the plan. Sandy's not going to overspend for something he doesn't see value in. The value that we see in those guys versus what their agents were asking for does not meet."
On the un-New York-like payroll: "I would point to the fact that you don't have to have that kind of payroll to win."
On the organization's biggest weakness: "I don't think we have enough position-player prospects that are ready to compete for jobs at the major-league level right now. We'd like to have more, like we have with the pitchers. We'd like to have that same stable of young guys competing for position-player jobs. The guys we have are a couple years away."
Monday's news reports:
• Matt Harvey sounded resigned to missing the entire 2014 season. He changed his tune and insisted he would not rush his return from Tommy John surgery.
Columnist Ken Davidoff in the Post does not expect the Mets to accept Harvey's request to rehab in New York rather than Port St. Lucie once the season begins. Writes Davidoff:
By the time the Mets break camp in six weeks, however, Harvey should be either throwing or close to doing so. At that point, it would be silly for him to set up shop in New York.
Read more in the Times, Post, Daily News, Star-Ledger, Record, Newsday and MLB.com.
• The Mets will wear a patch remembering the late broadcaster Ralph Kiner. They also will unveil the same logo on the left-field wall during an Opening Day ceremony. Kiner's children (Michael, Scott, K.C., Tracee and Kimberlee) will participate in that event before the 1:10 p.m. game on March 31 against the Washington Nationals at Citi Field. Read more in the Star-Ledger, Daily News, Record and MLB.com.
• Curtis Granderson said he meant no malice toward Yankees fans when he suggested in December upon signing that real New Yorkers are Mets fans. Read more in the Post, Daily News, Star-Ledger and Newsday.
• Ruben Tejada reported early to Mets camp Sunday after two tours at a fitness and nutrition camp in Plymouth, Mich. Position players do not officially report until Thursday.
• The Mets' pursuit of free-agent reliever Joel Hanrahan "will depend upon how the team fares early in the season," writes Marc Carig in Newsday. Hanrahan, recovering from Tommy John surgery, is not expected to be ready until May.
• Drew will work out at the new Scott Boras training facility in North Miami while waiting to sign, Nick Cafardo of the Boston Globe tweets.
• Top prospect Noah Syndergaard feels more at ease in his second season with the organization.
• What is Jose Valverde looking forward to in New York? The shopping, he joked. More seriously, Valverde said he is perfectly content setting up Bobby Parnell. Valverde and Kyle Farnsworth have late March outs in their minor-league contracts. Read more in the Post, Star-Ledger and Newsday.
• Parnell came through his first time throwing off a mound since herniated-disk surgery fine and was due to repeat the effort Sunday. Read more in the Star-Ledger.
• Jeremy Hefner, who underwent Tommy John surgery on Aug. 28, has been cleared to begin tossing a baseball.
• Scott Rice says last year's dual hernias were so uncomfortable he had to "hobble" to the bullpen late last season.
• The lower-case "d"s on the Mets uniforms have a different look in 2014.
• Mike Vorkunov in the Star-Ledger asks four questions to be resolved during spring training.
• In the Boston Globe, Terry Collins is ranked the 13th-best manager in MLB.
• From the bloggers … Faith and Fear in Flushing has chosen its retroactive third Mets World Series champion. … Can you really compare Lyndon Johnson and Howard Johnson? Mets Police did in Mets vs. Presidents. … John Delcos at Mets Report names five Mets on the hot seat.
BIRTHDAYS: Roger Craig, who lost a combined 46 games for the Mets in 1962 and '63, turns 84. ... Former reliever Juan Padilla is 37.
TWEET OF THE DAY:
Got the good news today. Cleared to begin a throwing program! I feel like a kid on Christmas Eve! #Mets

— Jeremy Hefner (@jeremy_hefner53) February 16, 2014
YOU'RE UP: What do you make of Jeff Wilpon's comments?