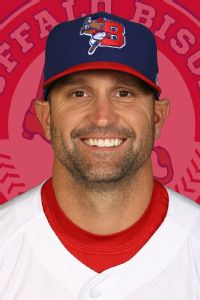 Courtesy of Buffalo Bisons
Buddy Carlyle
PORT ST. LUCIE, Fla. -- The Mets have signed right-handed reliever Buddy Carlyle to a minor-league contract that does not include an invite to big-league camp.
Carlyle, 36, last appeared in the majors in 2011 with the Yankees.
He made 36 appearances (two starts) last season for Triple-A Buffalo, compiling a 4-2 record and 3.86 ERA in 56 innings.
The Mets also announced the signing of left-handed reliever Dana Eveland, who also will proceed directly to minor-league camp.