PORT ST. LUCIE, Fla. -- Wilmer Flores has not played shortstop in the Mets organization since 2011, when a lack of first-step quickness prompted the organization to shift him to other infield spots.
But Terry Collins has suggested he will revisit at least dabbling with Flores at shortstop during spring training. And Flores, who arrived in camp Tuesday after traveling from a Michigan fitness and agility camp, is open to doing so.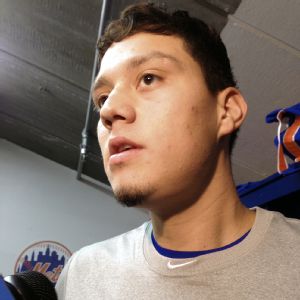 Adam Rubin
Wilmer Flores speaks at Mets camp Tuesday.
"Sure. I played there for four years," the 22-year-old Flores said. "It's not going to be a new position. I'm sure I can play."
Flores made his major league debut Aug. 6. He ultimately hit .211 with one homer and 13 RBIs in 95 at-bats.
"It was a great experience," Flores said. "I learned a lot. It was the year that I learned the most, especially mentally. This game is 80 percent mental."
Still, Flores could not perform at peak level. He dealt with a pair of cranky ankles that affected him in the field as well as at the plate, where he tended to swing while relying too much on his arms as opposed to his legs. Collins even backed off using Flores at second base because of the ankle issues.
He had hit .321 with 15 homers and 86 RBIs in 424 at-bats with Triple-A Las Vegas before the promotion.
"My body feels great. My legs feel great, especially my ankles -- 100 percent," Flores said Tuesday.
"We did a lot of ankle exercises," he added, referring to his offseason work at the Plymouth, Mich., fitness camp. "We worked on things that we needed to work on, like speed, agility and getting stronger. I'd be happy to go again."
Flores spent late October, November and January in Michigan. He managed to squeeze in 88 winter-ball at-bats with Margarita in his native Venezuela, from Nov. 27 through Dec. 29.
As for how his ankles hindered him last season, Flores said: "It was tough. First year in the big leagues, you want to be out there playing and giving 100 percent. But I just couldn't. When I had my chance, I did my best. I did what I could."