PORT ST. LUCIE, Fla. -- Frank "Sweet Music" Viola knows he has a ton of responsibility this season as Triple-A Las Vegas pitching coach, given the rotation may be highlighted by Noah Syndergaard, Rafael Montero, Jacob deGrom and even Jenrry Mejia and also may include prospects such as Erik Goeddel, Cory Mazzoni and Logan Verrett at points during the year.
"It could be the quickest firing of a pitching coach ever," Viola joked Wednesday. "The talent there that we're going to have is going to be incredible. So it's going to be really a lot of fun.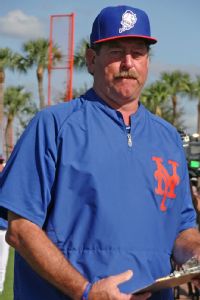 Adam Rubin
Frank Viola will serve as Las Vegas pitching coach."And the good part is, of the guys that could possibly end up there, I've had at least half of them at the lower levels. I'm familiar with them."
Viola, who won the 1988 Cy Young Award with the Minnesota Twins and later pitched for the Mets for three seasons, retired after the 1996 season.
Except for coaching at a Florida high school and with a summer collegiate league, Viola waited for his children to become grown before reentering baseball.
He applied for a job with the Mets' organization during a winter meetings in Orlando, where he resides, and was hired to serve as Brooklyn Cyclones pitching coach in 2011. He then held the same role with low-A Savannah the past two seasons.
The connection to get hired by the organization was Mets special assistant J.P. Ricciardi as much as Viola's ties to the club from his playing days. While Viola worked for ESPN in 2004, he got to know Ricciardi, then the Toronto Blue Jays GM. And back then Ricciardi had encouraged Viola to contact him if he ever wanted to coach.
"When I got back into it four years ago, I didn't know what I wanted to do," Viola said. "I didn't even know if I wanted to be a major-league pitching coach. But the way it played out, I have found that I have a great rapport with young players. You get that little window of an opportunity. I had a big-enough name that when they Google me, they realize I do have something to say if they're willing to listen. It's just letting them know that you're in it for them.
"My career is over. It's done with. I'm here because I want to see these kids get to the big leagues. And once they realize you really, genuinely care, that's when they'll listen.
"Whether a big-league gig is down the line or not, we'll play it out and see what happens. But I'm very content and happy being in this organization and seeing the strides it's making."
Viola may be more identifiable with the Twins than the Mets. He attends their fantasy camps.
"But I grew up a Mets fan," the East Meadow (L.I.) High School product added.
Viola actually went over to Minnesota's camp Tuesday to film a Twins commercial linking the club's past and present.
"They had [current Twins Mike] Pelfrey, [Ricky] Nolasco, [Phil] Hughes and [Glen] Perkins as a barbershop quartet doing the Twins' theme song," Viola said. "And I'm sitting there with [mascot] T.C. Bear of the Twins. And after that I look at him and say, 'Now that's some Sweet Music.'"